Bruin Recruiting: Prep News Roundup (1/26)
By Bruin Basketball Report 
Prep News Roundup is published every Monday. 

Twentynine Palms had Los Osos on the ropes, but the Grizzlies rallied for a 66-65 victory over Twentynine Palms on Monday evening. Los Osos junior
Kendall Williams
scored 36 points on 13 of 18 shooting, setting a school record with six 3-pointers.
Inland Empire Bulletin
1/20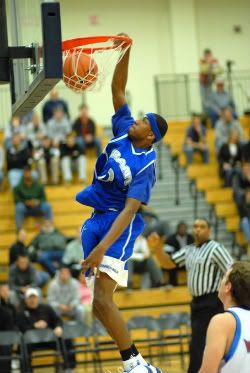 UCLA has another highly regarded group of basketball players coming in next year. Although the current freshman class is known for guards, next year will feature mostly big men — but that doesn't mean they aren't athletic. Check out this wild dunk from forward
Mike Moser
, a four-star verbal commit out of Oregon:
LINK
LA Times
1/20 
Rocklin center
Brendan Lane
found himself surrounded most of the night by a collapsing defense, and struggled to find his shots. The senior scored just half of his usual scoring average, with 12 points, but he also grabbed 14 rebounds and blocked three shots.
Granite Bay
1/20 
MODESTO CHR. 83, HUGHSON 66, at Modesto Christian --
Reeves Nelson
had 37 points and 15 rebounds before sitting out the fourth quarter of the Crusaders' (9-7 Trans-Valley League) victory over the Huskies.
Modesto Bee
1/24 
Sylmar 83, Kennedy 65: Gary Ricks had 23 points, Kobe Hooks added 17 and
Tyler Honeycutt
had 13 as the Spartans (13-5, 4-0) got a Valley Mission League victory.
Daily News
1/24 
Los Osos 69, Claremont 40:
Kendall Williams
had 23 points and 12 steals as the first-place Grizzlies (14-7, 4-0) defeated the Wolfpack. David Arnold added 10 points for Los Osos, including two three-pointers.
Inland Valley Daily Bulletin
1/24 
MODESTO CHR. 69, CAMPBELL HALL 62, at Los Angeles --
Reeves Nelson
led the Crusaders with 27 points against the defending Division IV state champion.
Modesto Bee
1/25 
The loss was on the minds of
Josh Smith
and the Conquerors. The came into the game prepared to redeem their loss and came out with a two point victory. Smith led the way with 25 points, but more importantly he helped his team get the win.
Examiner
1/20 
Renardo Sidney
, the 6-11 center from Fairfax, scored 27 points, had 10 rebounds and four blocks while contributing at least four dunks in an 84-72 Western League victory over University Wednesday.
LA Times
1/21 
Kentwood 72, Auburn Riverside 47:
Josh Smith
had a season-high 39 points — his fifth game with 30 or more this season — to power No. 2 Kentwood (11-3, 9-1 SPSL North). The 6-9 junior raised his scoring average to 25.3.
Seattle Times
1/21 
Westchester 80, Palisades 46:
Jordin Mayes
had 17 points and six assists for visiting Westchester (18-1, 5-0). Dominique O'Connor added 15 points, 10 assists and five steals, and Dwayne Polee had 15 points, nine rebounds and five blocks. Kareem Jamar had 10 points and eight rebounds.
Daily Breeze
1/22 
With a core roster of underclassmen, Westchester downed rival Fairfax 78-73 last week in a meeting of Los Angeles boys powers who are nationally ranked and will likely compete for Southern Section Division I honors. It's not too early to ponder the chances that it could be one of these teams against De La Salle or McClymonds in the state finals at Arco. The Comets of Westchester include USC-bound Dwayne Polee, who had 11 points and four blocked shots. Westchester could not contain
Renardo Sidney
(34 points). In attendance: USC coach Tim Floyd, former Fairfax and NBA player Chris Mills and UCLA assistant coaches.
Sacramento Bee
1/23 
Josh Smith
(Covington, Wash./Kentwood) is one of the best true centers in this class. His play this season has helped him move up two places to the No. 2 spot in the Class of 2010. He is getting double- and triple-teamed throughout each contest, but Smith still has dominated. He finishes everything in and around the basket -- frequently doing so with an emphatic dunk. He has remarkable agility and bounce with an outstanding pair of hands. Smith still has a ways to go with his conditioning, but his upside is enormous.
ESPN
1/23 
As for the one-on-one matchup between Tyler and Fairfax center
Renardo Sidney
, currently being pursued by a number of Division I schools, it could be considered a push – Tyler finished with 29 points and eight rebounds while Sidney had 28 and 11. Both players exchanged blows in the low post and monster dunks. "Personally, I really don't have too much respect for his game," Tyler said of Sidney. "I just don't think he's a great basketball player."
San Diego Weekly
1/24
(photo credit: Oregonian)
Labels: Prep News Roundup