Kevin Love Chosen For Cover of EA Sports NCAA '09
REDWOOD CITY, Calif. – September 11, 2009 – Electronic Arts Inc., (NASDAQ: ERTS) today revealed that former UCLA student-athlete basketball star Kevin Love has been chosen for the cover of the newly named EA SPORTS™ college basketball videogame NCAA® Basketball 09 for Xbox 360® video game and entertainment system, and the PLAYSTATION®3 and PlayStation®2 computer entertainment systems.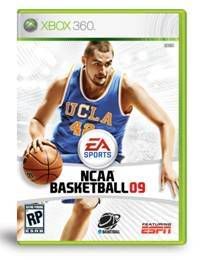 "There is more to college basketball than just the 65 team post season NCAA Tournament, and our new name reflects this," said Peter Moore, President, EA SPORTS. "College basketball is about the entire season, focusing on the fantastic school rivalries, recruiting, home court advantage, student sections, mascots, and loud arenas. The culmination of all of this is the tournament and NCAA March Madness, but to get there it takes so much more."
NCAA Basketball 09 is not just a new name; it introduces a new way to play college basketball that mirrors real life. A new, strategic gameplay feature challenges gamers to replicate their school's style of play, set the tempo and win. Whether your school plays up tempo looking to push the ball in transition, runs a half-court offense that utilizes the clock and limits possessions or features a balanced attack that combines transition offense with set plays, NCAA Basketball 09 rewards the strategic gamer and emphasizes team specific styles of play.
NCAA Basketball 09 will feature Division I coaches in-game for the first time. Each coach will provide real time instruction and feedback, helping gamers control the tempo by executing their team's offense and defense to perfection.
This year on Xbox 360 and PLAYSTATION 3, NCAA Basketball 09 will operate on a new gameplay engine with over 1,000 new animation sequences that deliver a more responsive experience with improved ball physics and more intelligent AI. The new animation system enables gamers to apply pressure defense with new full-court presses and traps. Plus, improved AI and animations enable quicker players to get up and down the floor faster and make better decisions running the lanes and driving to the rim. Animations can be interrupted at any time, enabling you to read and respond to the action on the floor, just like real life.
Love is the first UCLA basketball player to be featured on the cover of the EA SPORTS college basketball game. A student-athlete with a 3.2 grade point average, Love was a first team All-American while leading the Bruins in scoring at 17.5 points per game and rebounding at 10.6 rebounds per game as a true freshman. Named 2008 Pac-10 Freshman and Player of the Year, Love led UCLA to the Men's Final Four®. He was the fifth pick in the 2008 NBA Draft by the Memphis Grizzlies and later traded to the Minnesota Timberwolves.
"It is quite an honor to be named cover athlete of NCAA Basketball 09," Love said. "When you look back at some of the great players who have had this opportunity, it's exciting to be a part of the EA SPORTS family and contribute to a game I've been playing for a long time."
NCAA Basketball 09 will build upon the authenticity that epitomized the No. 1 selling* NCAA® March Madness® franchise by capturing the emotion, intensity, and atmosphere of a real college basketball game. Feel the excitement of game night with the band playing fight songs, the student section leading the cheers and popular ESPN college basketball broadcasters Dick Vitale, Brad Nessler, and Erin Andrews providing the commentary.
NCAA Basketball 09 is in development at EA Canada in Burnaby, B.C. It will ship to stores in fall 2008. The game is not yet rated by the ESRB. To learn more about the game visit www.ncaabasketball09.com. Box art of NCAA Basketball 09 can be downloaded at http://info.ea.com.