Former L.A. Standout Alex Stepheson Transfers from North Carolina
By Bruin Basketball Report
North Carolina announced forward/center Alex Stepheson is transferring from the school in order to be closer to his family in California.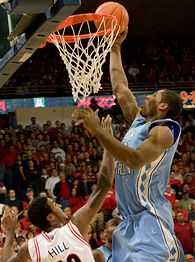 "My family is dealing with some health challenges at this time, and as a result I have made the decision to transfer to be closer to home," Stepheson said in a statement issued Friday by the school.
The former Harvard-Westlake standout averaged 3.2 points and 3.4 rebounds in two seasons at Chapel Hill, playing primarily off the bench.
"I am extremely, extremely disappointed, but I feel so great about Alex that I understand his decision to transfer," North Carolina coach Roy Williams said. "He is doing this because of health concerns and by being closer to home he will be able to provide necessary support and help his family needs at this time.
School officials said they have granted Stepheson's request for a release, a move that permits him to contact other programs. UCLA and USC are two schools rumored to be the favorite destination of Stepheson at this time.
The Bruins heavily recruited the 6'9 235 lb Stepheson while he played at Harvard-Westlake in North Hollywood. He is a strong rebounder and excellent low post defender and would fit extremely well into Coach Ben Howland's system.
Its uncertain at this point whether Stepheson would have to sit out a season. Since he is transferring due to the health of his father, he might apply to the NCAA for an exemption, and if granted, it would allow him to play next season without sitting out.
If Stepheson does join the Bruins next season, he'll be joining a potentially very formidable front line which would include; seniors Alfred Aboya, Luc Richard Mbah a Moute (if he returns), junior James Keefe, and freshman J'Mison Morgan (if he signs with UCLA).
With both Kevin Love and Russell Westbrook likely jumping to the NBA this summer, UCLA would have two open scholarships for both Morgan and Stepheson next season.
(photo credit: AP)
Labels: Team Misc News