J'mison Morgan Considering UCLA Again
By Bruin Basketball Report
Five star basketball recruit J'mison Morgan has submitted a request for a release from his commitment to LSU, the Dallas Morning News reported.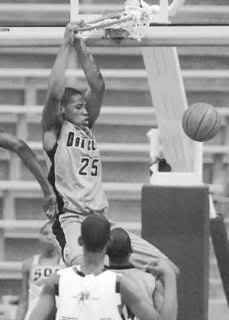 Morgan, a South Oak Cliff HS senior, had signed a national letter of intent with LSU last November; however, after John Brady was fired as head coach at LSU, Morgan began to reconsider his commitment to the university.
After meeting with new LSU head coach Trent Johnson two weeks ago, Morgan remained undecided on his basketball future, even though reports from the LSU athletic department indicated Morgan had reaffirmed his commitment to the school.
The 6'10 265 lb center reportedly submitted his release papers to LSU over the weekend and is now awaiting to hear back from school administrators on his official release.
LSU is not obligated to release Morgan from his commitment. If LSU does not grant his release, Morgan would have to sit out a year before transferring to another school to play basketball.
Morgan is reportedly considering UCLA to attend next fall to play in the 2008-09 season.
UCLA had aggressively pursued the highly sought after Morgan last year in a tough recruiting battle with schools including LSU, Alabama, and Kansas.
With the early entrance into the NBA by UCLA center Kevin Love, an opportunity opened up for a big man, like Morgan, to play major minutes on an elite team. UCLA's third consecutive visit to the Final Four seemed to weigh heavily in Morgan's decision.
"It was a real hard decision for me," said Morgan to the Dallas Morning News. "My comfort level was at LSU, but I felt like UCLA was a better fit for me as far as exposure."
LSU assistant coach Butch Pierre's re-hire by Coach Trent Johnson seemed to be the key to keeping Morgan at LSU, but at the end, the prospects of playing in Westwood and gaining national exposure on a bigger stage was more important to Morgan.
Morgan averaged 13.5 points, 11 rebounds and 4 blocked shots as a senior last season.
If Morgan decides to attend UCLA, he will be joining a recruiting class already ranked No.1 by most experts. Already commited to UCLA are guards Jrue Holiday, Jerime Anderson, Malcolm Lee, and post player Drew Gordon. Morgan's commitment would put an exclamation point on an already stellar class.
(photo credit: Dallas Morning News)
Labels: Recruiting Misc News