Mike Moser Decides UCLA Is The Place
By Bruin Basketball Report
Mike Moser from Grant HS in Portland, Oregon, has committed to play at UCLA in 2009. He is ranked in the top 20 among all small forwards and top 100 overall in his recruiting class.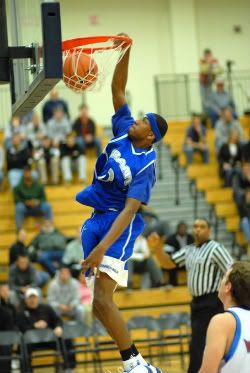 The high school senior had committed to Arizona, but decided to re-open his recruitment following head coach Lute Olson's retirement. Moser had also considered USC, Oregon State, Oregon and the Wildcats.
The 6'7, 185 lb wing averaged 15.0 points, 11.0 rebounds and 3.5 blocks as a junior at Grant HS. Moser will likely play both the shooting guard and small forward spot. He joins an exceptional 2009 class at UCLA, including Tyler Honeycutt, Reeves Nelson, Brendan Lane and Anthony Stover.
Moser is extremely athletic and gives the Bruins something they've lacked for awhile - a tall, athletic wing. With his size and speed he can guard multiple positions 1 through 3 and has the mentality of a potential lockdown defender. He has a very good outside shot to the three-point line and moves very well without the ball.
UCLA was Moser's final destination because he respected the program's history of success and appreciated the way players have developed within the program on their way to playing in the NBA.