Jrue Holiday Impressive In Exhibition Game Win
By Bruin Basketball Report
Freshman phenom Jrue Holiday demonstrated an impressive all-around game recording 12 points, 7 rebounds, 6 assists, and exhibiting a court-awareness quite beyond his years to help lead UCLA to an easy 86-58 win over Cal Baptist in an exhibition game Monday night at Pauley Pavilion.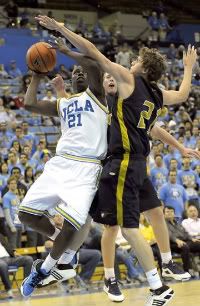 On offense, Holiday got to the basket at will and helped the offensive flow in the half court with his passing and court-recognition. He was equally impressive on the defensive end, disrupting passing lanes and deflecting balls leading to steals.
Holiday was easily the best player on the court this evening.
The Bruins were in control of the game from the start. UCLA led early 17-6 using a 10-0 run before heading into halftime with an overwhelming 41-17 lead.
Senior Josh Shipp led all scorers with 20 points hitting on 7 of 8 from the field. Forward Nikola Dragovic, playing through a foot injury, hit on 4 of 6 from beyond the arc and finished with 13.
Besides Jrue Holiday, all five of the Bruin freshmen saw plenty of action in the contest. All the freshmen were on the court at the 6:28 mark of the second half.
Guard Jerime Anderson backed up Darren Collison at the point and was effective running the team, pushing the ball and finding the open man, although Coach Howland barked out at Anderson once when he failed to jump stop and instead leaped into the air and almost committed a turnover off a forced pass.
Malcolm Lee also saw action but did not see the ball often on offense, however, his quickness and length was evident on the defensive end as he caused havoc on his opponent with his excellent ball pressure.
Forward Drew Gordon was the first substitute off the bench replacing starting center Alfred Aboya in both halves. Although he got lost a few times on defense and was slow with his hedges, Gordon demonstrated the type of athleticism and quickness that will make him a factor in the defensive paint. Offensively, he is still raw and will need time to develop his post offense.
Center J'mison "Bobo" Morgan is a true low-post center. He grabbed a team-high 9 rebounds, and while starters Alfred Aboya and James Keefe, and for that matter Drew Gordon, struggled to set-up on the blocks on offense, Morgan used his immense 6'10 frame to gain his spot in the post easily to retrieve an entry pass. His offensive moves still need refinement but at least on this night, Morgan was UCLA's most effective low post option on offense. On defense Morgan still needs work as well as he was slow on his rotations and got beat backdoor a few times by his opponent.
All in all, for a first game, it was a good initial display of talent and promise for UCLA.
One concern from the game for the Bruins was the two quick fouls that Alfred Aboya picked up early. For UCLA to be successful this year, Aboya will need to avoid foul trouble, otherwise one of the young freshmen post players will need to step up and play a more prominent role for the team by season's end.
The Bruins next meet Biola on Friday, Nov.7 in its second and final preseason game of the season at Pauley Pavilion.
BBR Notes: Senior guard Darren Collison was named to the Associated Press' preseason All-America Team today. "It is very exciting for Darren and our basketball program," UCLA Coach Ben Howland said. "It is indicative of the respect that Darren has nationally for being one of the best players in the country and is a very well-deserved honor."
(photo credit: UCLA/Jack Rosner)