Four Prep Stars From 2009 Class Sign With UCLA
By Bruin Basketball Report
Four 2009 high school seniors signed national letters of intent to play next fall at UCLA, Head Coach Ben Howland announced today.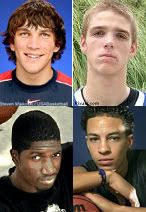 The heralded recruiting class, ranked in the top 10 nationally, consists of Reeves Nelson, Brendan Lane, Tyler Honeycutt, and Anthony Stover. All four student athletes are from California high schools.
UCLA is likely not done with their recruiting of the 2009 class. The Bruins may sign at least one more to the class. Mike Moser, who recently withdrew his verbal commitment to Arizona, has UCLA high on his list but he may not sign until the spring signing period.
"We are very excited about this recruiting class," Howland said. "I think the four players that we signed help fulfill the needs that we have and as a class, they are all great kids that are going to be great players. They are all outstanding young men."
Reeves Nelson (6'7, 220lb) was the first to verbally commit to UCLA. He averaged 26.0 points and 14.0 rebounds last season at Modesto Christian HS. A great competitor and excellent athlete, Nelson is ranked in the top 30 for forwards in his class. He played football earlier this fall and tore a knee ligament; however, he is expected to recover fully in time for the high school basketball season.
"Reeves Nelson is very physical and is a very strong and athletic young man," Howland said. "He's a tough, hard-nosed player who is a good rebounder and he's going to be an outstanding player."
Brendan Lane (6'10, 205lb) averaged 20.4 points, 11.7 rebounds and 5.2 blocks in his junior year at Rocklin HS. A highly skilled and very good shooting big man, Lane is also ranked in the top 30 for forwards in 2009.
"Brendan Lane is a long and very skilled athlete," Howland said. "He has an exciting upside because as he gets bigger and stronger, his game will really improve."
Tyler Honeycutt is the most heralded recruit from this Bruin class. He is rated the No.1 forward in the West and a top 25 ranked player overall in 2009. Honeycutt averaged 16.0 points and 10.0 rebounds per game last year at Sylmar HS. Honeycutt improved his stock dramatically over the summer with his play on the AAU circuit.
"Tyler Honeycutt is a very versatile athlete," Howland said. "He is a good shooter, he's good at scoring off the dribble and is a good passer. He is also an outstanding rebounder and has a lot of potential."
Center Anthony Stover (6'10, 210lb) averaged 10.6 points, 6.8 rebounds and 7.4 blocks at Renaissance Academy as a junior. He will play at Windward HS in Los Angeles this year. He is rated a top 20 center nationally.
"Anthony Stover is very long and his upside is that he has a 7-foot-5-inch wingspan," Howland said. "He's an excellent shot blocker and we are excited about his future."
Today is the first day of the early signing period that extends until November 19.
Labels: Recruiting Misc News