Bruins Player Injury Update
By Bruin Basketball Report
Senior center Alfred Aboya's MRI on his left wrist was negative and he is probable for the Bruins' next game on Saturday against Florida International.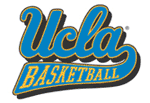 Aboya completed 100 percent of today's team practice with full contact.
While practicing today freshman Malcolm Lee suffered a sprained right ankle (grade one) and junior forward Nikola Dragovic suffered a left knee contusion
Both players are listed as day-to-day and should return to practice in a day or two and be available for Saturday's game.