BBR: UCLA Bruins 2008-09 Basketball Preview
By Bruin Basketball Report
UCLA reached the NCAA Final Four for a third consecutive time last season, an accomplishment celebrated by most any other program except for the one in Westwood. Fair or unfair, its the expectation put upon a program that has won 11 national championships, the last one 13 years ago.
Do the 2008-09 Bruins have the mixture of talent and size to hang a 12th championship banner from the rafters in Pauley Pavilion?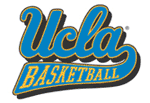 Head Coach Ben Howland returns for his sixth season at UCLA where he has compiled an impressive 126-45, .737 record including three 30+ wins the past three seasons.
While Howland and UCLA have experienced unparalleled success the past three years by reaching the Final Four each time, he understands the burden his Bruin teams carry due to the program's past success.
Last season, the Bruins were able to ride on the broad shoulders of freshman Kevin Love through the Pac-10 and deep into the NCAA tournament. Love gave Howland an inside presence he'd never had at UCLA, unfortunately, the team was plagued by inconsistent play on the perimeter, losing to Memphis in the semifinal game of the tournament.
Love along with stars Luc Richard Mbah a Moute, and Russell Westbrook opted to leave for the NBA early this summer, and UCLA lost Lorenzo Mata-Real to graduation. In addition to losing three of five of it top scorers, the team also lost 65% of its rebounding with this quartet.
The Pac-10 was loaded with talent last season. Seven players were drafted in the first round of the NBA draft with five more players going in the second round. With the purge of so much talent, the conference looks less formidable than in the past.
Arizona State, USC, and Washington will provide UCLA with the stiffest challenge in conference action. The Sun Devils return all their starters led by James Harden and Jeff Pendergraph. Although USC lost O.J Mayo and DaVon Jefferson they return top conference player Taj Gibson and have added freshman stud Demar DeRozan who will challenge for top freshman honors. Big Jon Brockman is joined by a solid freshman group that will keep things interesting in Washington.
The cupboard isn't bare in Westwood either and Ben Howland and his staff have brought in arguably one of the top freshmen classes in the nation in guards Jrue Holiday, Malcolm Lee, and Jerime Anderson, and posts Drew Gordon, and J'mison Morgan.
UCLA also returns a cadre of experienced seniors with preseason All-American Darren Collison, fifth-year senior Josh Shipp, and post man Alfred Aboya. They'll be joined by juniors James Keefe, Michael Roll, and Nikola Dragovic.
While the seniors and returning players will provide stability and leadership, how far this UCLA team goes in the tournament will depend on how much members of it's heralded freshmen class develop and progress by season's end.
With a plethora of talented guards and wings, UCLA will definitely be more of a perimeter-centric team this season and one would expect this team to run more often. However, this is still a Ben Howland team, and while the coach will encourage his team to push the ball up the court more often, he will still insist on smart passing, good shot selection, and most of all, demand a solid defensive effort.
Incoming Freshmen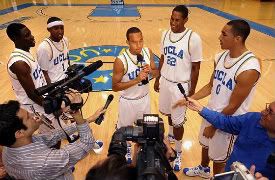 Gatorade High School Basketball Player of the Year and McDonald All-American Jrue Holiday is the best of the freshmen group. The combo guard out of Campbell Hall is silky smooth and has the talent and athleticism to take over a game from both sides of the court.
On offense Holiday can get to the basket with ease and finish with the best and has a good stroke out to the three, but he also has the court-vision and unselfishness to make the great pass to a teammate. Holiday will start games as the two-guard but look for him to play the point often even when Darren Collison is on the floor.
Holiday has the combination of size, athleticism, and passion to play lock-defense, however, he still has some room for fundamental improvement to defend even better at the collegiate level.
It would not be a surprise if Holiday turns out to be the best player on this team by year end. And yes, it would mean another one-and-done star in Westwood.
Malcolm Lee also has McDonald All-American on his resume. He has the skills and quickness to breakdown defenses and possesses a solid three-point stroke.
The 6'5 wing has the quickness and length to be a menace with his on-ball defense. While Lee still needs to add bulk to his slight 180 lb frame, his blazing speed and fervor for the game will make him a Bruin favorite in a short time. Lee will start the season off the bench likely behind junior Michael Roll in the rotation but may move-up with continued maturation.
Jerime Anderson will provide back-up minutes for Collison and Holiday at the point. Anderson is a steady player and a very good defender who understands how to run an offense and involve his teammates in the game.
Anderson needs to develop consistency with his outside shot and has the propensity to jump in the air and force passes, a Howland pet-peeve, but the UCLA coach already feels comfortable enough to insert him into tight situations of a game.
Forward/center Drew Gordon has impressed the staff so far with his athleticism. On defense, he can jump up to the rafters and gives the Bruins a much needed shot blocker. He is still learning the UCLA offense and defense and gets lost at times on the court, but he is extremely active on defense and a potent disruptor in the paint.
Gordon is relatively raw on offense and needs to continue to work on his footwork and develop an offensive repertoire before he reaches his full potential. Gordon has been the first big man off the bench during the preseason because of the energy he injects into the game, specifically with his defense and rebounding. It would not be a surprise to see his minutes increase as he learns the game at the collegiate level.
J'mison "Bobo" Morgan is the team's best low-post presence. Morgan's 6'10, 250 lb frame and strong lower body allows him to muscle down and establish good position on the blocks. He is most comfortable on offense with his back to the basket although his overall offensive skills need refinement.
Morgan gives the Bruins their best chance at a consistent low-post scorer. If he can develop his offensive game and produce down low, Morgan has the chance to earn major minutes. On defense, he is still slow on his rotations and hedges and needs to continue to work on his conditioning and stamina.
Returning Players
UCLA begins the regular season with three seniors in the starting line-up; Darren Collison, Josh Shipp, and Alfred Aboya.
Darren Collison made the right decision to return for his senior season at UCLA. After being dominated by a bigger and stronger Derrick Rose of Memphis in the semifinal tournament game, the Wooden Award candidate and preseason All-American worked hard over the summer to bulk up his thin frame, and as a result, he gained over ten pounds of muscle.
Collison was second on the team in scoring last season, averaging 14.5 and he also had 3.8 assists per game. Collison shot an efficient 52.5% from beyond the three-point arc. Paired with Holiday, the two form one of the most formidable starting backcourts in the nation.
This is Collison's team, a rare senior who will be a top first-round NBA choice. Collison needs to lead with his actions but he also needs to let the precocious freshmen guards around him develop their game - he'll need their help come tournament time.
Senior Josh Shipp slimmed down over the summer and lost up to 15 pounds in hopes of improving his quickness.
Shipp averaged 12.2 points last season but shot just 43% from the field and 32.4% on three-pointers. Shipp needs to make more of an effort this season to take the ball inside and take advanage of his strength and uncanny ability to finish around the basket. With the lack of offensive firepower in the post this season, Shipp may very well be the team's best inside scorer.
Despite already earning his undergraduate degree, Alfred Aboya decided to return for his final year. A bench player in his first three seasons at UCLA, Aboya will begin as the starting center this year. He averaged 2.9 points and 2.2 rebounds in 15.2 minutes per game last season.
In order for Aboya to be an effective starter, he'll need to curtail his fouls. Last season, he averaged 6.2 fouls per 40 minutes played. Coach Howland has already stated that he needs Aboya on the floor for at least 25 minutes in a game.
If Aboya is unable to play effectively while reducing his propensity to foul, one of the freshmen, either Gordon or Morgan, will need to step up to fill the void.
This may be a make or break season for junior forward James Keefe. In his first two years at UCLA, Keefe has been inconsistent at best. He averaged 2.8 points and 2.7 rebounds in 25 games last season.
In a some games, including the tournament game against Western Kentucky last season, Keefe has shown flashes of what made him a McDonald's All-American. Whether it be due to the lack of playing time or perhaps lack of confidence on the part of Keefe, the Bruins need him to step up this season and provide stability along the team's front line.
Keefe has the potential to be the team's top rebounder this season and has shown flashes of his potential during early practices. His length and athleticism allows him, especially when he's aggressive, to be a good defender. But now he needs to assert himself on the court and demonstrate he can be a consistent contributor.
Michael Roll comes back this season from a medical redshirt, the result of surgery to repair torn ligaments in his foot.
He is slated to be the team's top sixth man, backing up at either the two or three spot. With teams sagging their defenses inside as a result of the longer three-point line, the Bruins need Roll to hit consistently from outside.
Roll started the preseason with discomfort in his foot but he has played well in practices and exhibitions.
Junior Nikola Dragovic suffered another setback when he was arrested for suspicion of misdemeanor battery against an ex-girlfriend. He was recently released from jail but his status on the team is unknown at this point.
The team was expecting Dragovic to back-up at the four-spot this season, and like Michael Roll, need his outside shooting to help open things up inside. Last season, Dragovic averaged 2.5 points in 25 games.