UCLA Basketball Team Kick-off the New Season
By Bruin Basketball Report</strong
Head Coach Ben Howland and the UCLA basketball team held its annual media day on Wednesday afternoon amidst excitement and the typical high expectations one finds in Westwood this time of year.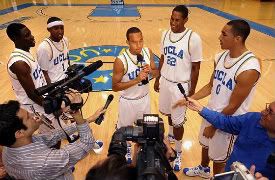 The 2008-09 Bruins took their team and individual photographs and were introduced to the media in attendance.
Despite losing three starters from last season's Final Four team to the NBA this summer, Coach Ben Howland clearly understands what is expected from his squad this year.
"Because of the success of the last three years, there will be high expectations - there always has been and will always be high expectations for UCLA basketball," Howland said.
"We lost a lot - a ton including Lorenzo Mata-Real. We lost our top four rebounders from last year's team," Howland said. "There are now a lot of opportunities for the younger players and the returning players."
Last season UCLA began the season with no seniors in the starting line-up, however, this year the team will sport three with Darren Collison, Josh Shipp, and Alfred Aboya.
Darren Collison put on significant weight over the summer, working hard long hours in the weight room and now weighs 175 pounds.
After spending the offseason the past two years rehabilitating from injuries, red-shirt senior Josh Shipp spent this summer working hard on his conditioning and weight. He has lost almost 15 pounds and is down to 210. Howland feels Shipp is in the best shape of his basketball career at UCLA and expects him to be one of the team's main offensive weapons this year.
"Josh looks good. He's running well and he's cut," Howland said. "This offseason he made a concerted effort in games to get to the basket more. Josh went to the foul line less than 3 times a game last season. I'd like to see him get to the free throw line more often perhaps 5 -6 times a game this season.
As for the third senior starter on the team, Alfred Aboya will need to find a way to stay on the court by curtailing his fouls. Howland said that in practice whenever Aboya makes a bad foul he punishes the entire team by making them run laps.
"We need Alfred to play at least 25 minutes a game," Howland said. "He does so many things well, he's a big key to this team. His presence on defense, his blocking out. He'll also make the freshmen big men better since they'll have to go up against Alfred every day in practice.
Overall depth is a concern for the team this season. UCLA will start the season with just 11 players on scholarship, and this includes Mustafa Abdul-Hamid, a walk-on last year, who was given a scholarship for the upcoming season.
"How well we do this season depends on two things," Howland said, "if we can stay healthy and how much our freshman develop over the course of the season - especially our big guys inside. I dont think we can sustain a lot of injuries this year and be successful."
Despite an elite incoming frosh backcourt, Howland expects the team to do a lot of the same things that has helped this team advance to the last three Final Fours.
"We're still going to emphasize defense, take good shots on offense, and take good care of the basketball," Howland said. "A lot of our success will also depend on how well we rebound the ball."
On the freshman class, Howland is excited about the incoming players but he also knows they all have much to learn and will make many mistakes at the start. He feels that the two big men, Drew Gordon and J'mison Morgan, will need to play significant minutes this season. Gordon will likely back-up at the four spot while Morgan will back-up at center.
At this point, Howland expects the seniors Aboya, Shipp, and Collison to start as well as one of the freshmen guards, most likely Jrue Holiday. At power forward, Howland said junior James Keefe will get the nod.
Coach Howland gave an update on the Bruin injury front.
Freshman guard Jerime Anderson has suffered from a nagging groin injury the past few months. As a result he was barely able to play much basketball this summer. When he did try to play, he would re-aggravate the injury. He practiced yesterday with the team and complained of soreness afterwards.
Howland said fellow frosh guard Jrue Holiday's knee was about 90%. Holiday had surgery on his knee last April. Howland felt Holiday made a good decision to rehabilitate his knee over the summer rather than go and compete at the Olympic training camp.
Junior Nikola Dragovic has been hampered by his foot injury and continues to rehabilitate while missing the first couple of practices this year. Coach Howland is expecting Dragovic to play significant minutes this season, and with the backload of talent at the wing, he feels Dragovic will play primarily at the four spot backing up James Keefe. Dragovic has lost almost ten pounds since last season in hopes it will improve his quickness on the defensive end.
Red-shirt junior Michael Roll has been practicing and is expected to play a major role this year as well. Although he still suffers from foot pain, he's resigned to the fact that he'll just have to play through the discomfort this season.