Tyler Honeycutt Commits To UCLA 2009 Frosh Class
By Bruin Basketball Report
Sylmar basketball prep star Tyler Honeycutt announced he has verbally committed to play at UCLA. He is currently ranked in the top thirty of his class by various recruiting services.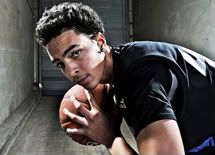 The senior wing now joins forwards Reeves Nelson and Brendan Lane in UCLA's 2009 elite recruiting class.
Honeycutt will sign a national letter of intent with UCLA during the early signing period in November.
The 6'8 195 lb Honeycutt increased his stock over the last year while becoming one of the most improved players on the West Coast.
Honeycutt has improved his shooting significantly with the ability to hit consistently out to the three-point arc. Despite his lanky frame, he is active on the boards and has improved on his defense.
"I just think he felt he'd have a good opportunity at UCLA and it's been his dream school since he was a little kid," Honeycutt's mother, Lisa Stazel told the LA Times.
As a junior last season, Honeycutt averaged 16.0 points and 10.0 rebounds.
Honeycutt took his time before making a decision, opting until the start of the school year. He had also considered USC, Texas, and Memphis, but at the end, he decided the proximity of the Westwood campus and the winning tradition at UCLA suited him just fine.
UCLA still has enough scholarships to potentially fill two more spots in the class of 2009. The Bruins would still like to add a guard and possibly another big man to the class. Earlier this week two potential recruits committed to other schools: Abdul Gaddy to Arizona and Avery Bradley to Texas.
(photo credit: AP)
Labels: Recruiting Misc News