Howland Inks New 7-Year Agreement With UCLA
By Bruin Basketball Report
UCLA head men's basketball coach Ben Howland and the University have agreed on a new seven-year contract, athletic director Dan Guerrero announced today. The new contract, which runs through the 2014-15 season, includes guaranteed compensation of $1.97 million for the 2008-09 season and escalates to $2.3 million for the 2014-15 season. It also includes the incentive package from his previous contract that has a maximum value of $235,000.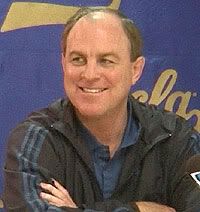 In 2007-08, UCLA set a school record for victories en route to a mark of 35-4 and a third consecutive Final Four appearance. Since the NCAA Tournament bracket expanded to 64 teams in 1985, UCLA is one of just four schools to earn three straight Final Four berths (Michigan State in 1999-01 was the last to do so). UCLA has also won three straight Pac-10 titles, making Howland the first Bruin coach since John Wooden to win three straight league championships, and two of the last three Pac-10 Post-Season Tournaments.
Howland is also one of just three coaches in the history of college basketball to win at least 30 games in three consecutive seasons. He has also produced four NBA first-round draft choices in the last three seasons, including the fourth and fifth selections in the 2008 draft.
"Ben Howland and UCLA are a great combination," said Guerrero. "Ben is at the top of his profession and is deserving of this commitment by the University. He has returned UCLA to the nation's elite, as illustrated by three straight Finals Fours and three consecutive 30-win seasons. He is an outstanding recruiter, and the foundation Ben has built for our program promises to keep us at the forefront for the foreseeable future."
"I have said this before, but there is no place I would rather be coaching than UCLA," said Howland, 51. "I grew up a Bruin basketball fan and this is my dream job. We have great young men in our program, both on and off the field, and they are the real reasons for our success. UCLA is a special name in college basketball thanks to Coach Wooden and I am proud to be the caretaker of his program. I am also grateful to Chancellor (Gene) Block and Dan for the faith they continue to show in me."
[UCLA Press Release]
(photo credit: AP)
Labels: Coach Ben Howland