NBA Draft Deadline Looms for UCLA Players
By Bruin Basketball Report
Much has transpired since Kevin Love, Russell Westbrook, Luc Richard Mbah a Moute, and Josh Shipp declared for the NBA draft last month. Let's catch up on some of the activity.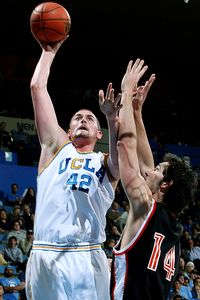 Declared players have up until June 16 to remove their names from the NBA draft in order to retain their college playing eligibility. The draft is scheduled for June 26.
Already one player has pulled out of the draft. Josh Shipp will play his senior season in Westwood. Shipp, the team's third-leading scorer last season at 12.7 points per game, will join Darren Collison to give UCLA some returning veteran offensive firepower. Collison announced last month he was foregoing the NBA draft to return to UCLA for his final campaign.
The Bruin players still with their names in the draft are Kevin Love, Russell Westbrook, and Luc Richard Mbah a Moute.
Draft Express lists the following measurements and performance numbers for these three players from the NBA draft camp held in Orlando:
Kevin Love
No shoes - 6'7.75"
With shoes - 6'9.5"
Wingspan - 6'11.25"
Body fat - 12.9%
Standing jump - 29.5"
Vertical jump - 35.0"
3/4 court sprint - 3.22 sec

Russell Westbrook
No shoes - 6'2.25"
With shoes - 6'3.5"
Wingspan - 6'7.75"
Body fat - 4.8%
Standing jump - 30.0"
Vertical jump - 36.5"
3/4 court sprint - 3.08 sec

Luc Richard Mbah a Moute
No shoes - 6'5.75"
With shoes - 6'7.5"
Wingspan - 7'0.5"
Body fat - 7.0%
Standing jump - 32.0"
Vertical jump - 38.5"
3/4 court sprint - 3.17 sec


Of the three players, only Mbah a Moute participated in the games at the NBA camp in Orlando, while both Love and Westbrook were only present for the physical measurements and skills tests. All three players will audition for individual NBA teams over the next few weeks.
Kevin Love is gone. He signed with a sports agent last week and there is no coming back to UCLA, at least as a basketball player. His stock has risen since he declared for the draft. Love has been projected as high as a top five pick to no lower than a top ten.
The freshman center has worked hard over the last few months to improve his skills and shed some weight. He has been working out with a trainer regularly at the Home Depot training center. Love has already lost 15-20 and has improved his quickness and agility as evidenced by his camp performance.
Love should become UCLA's first lottery pick since Jerome Moiso in 2000 and Baron Davis in 1999. Minnesota, the Clippers, and Milwaukee have been mentioned as possible destinations for Love.
Drafted not too far behind Love will be sophomore guard Russell Westbrook. Although he has not yet hired an agent, Westbrook will almost assuredly stay in the draft. He has impressed teams at individual workouts and may sneak in as a lottery pick. Teams have noted his athleticism, aggressiveness, and court acumen.
Lottery teams such as the Clippers, Indiana, and Sacramento have shown deep interest in the services of Westbrook.
Although Mbah a Moute is only a borderline first-round to a second-round pick, he may still elect to stay in the draft. Mbah a Moute is very close to graduating from UCLA and has reportedly indicated he may jump to the NBA if he can get at least a second-round draft guarantee from a team. Only first-round choices earn a guaranteed two-year contract.
If Mbah a Moute does not make it to the NBA, he still has the option of playing overseas; however, its likely an NBA team will take a chance on the 6'8 forward.
At the NBA camp in Orlando and during individual team workouts, Mbah a Moute has shown the type of tenacious defense and rebounding that made him invaluable in Coach Ben Howland's defensive scheme. He has shown scouts he can guard quick point guards and big post men. Despite not shooting well or displaying good offensive skills at tryouts, teams such as the Chicago Bulls and New York Knicks still have shown interest in him.
At this juncture, Mbah a Moute is still undecided and may still return to UCLA. He has until June 16 and has a number of indiviual team tryouts still scheduled, including one with the Boston Celtics.
UCLA's chances for a fourth consecutive Final Four and a NCAA championship would definitely improve if Mbah a Moute decided to return. His defense and rebounding would help to solidify a talented yet inexperienced front line.
Although the Bruins will likely have Alfred Aboya returning for his senior season, the only other depth up front would be junior James Keefe, and freshmen J'mison Morgan and Drew Gordon.
(photo credit: AP)