Morgan Signs Grant-in-Aid With UCLA
By Bruin Basketball Report
(via UCLA press release)
UCLA has received a signed grant-in-aid form from high school senior J'Mison Morgan, Bruin head coach Ben Howland announced today.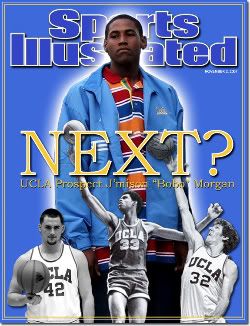 I am very, very excited that J'Mison is going to be attending UCLA and be a part of our program," said Howland.
"He is a true center with excellent hands and outstanding overall skills. He is a fine passer, shot blocker and rebounder. J'Mison completes a five-player 2008 class that we believe gives us a great foundation for the future."
Morgan, from South Oak Cliff High in Dallas, TX, joins a UCLA freshman class ranked No. 1 nationally by virtually every recruiting service and website. It includes forward Drew Gordon and guards Jrue Holiday, Jerime Anderson and Malcolm Lee.
The 6-10, 248-pound senior was rated the nation's No. 2 center by Scout.com and the No. 4 player at his position by Rivals.com. He originally signed a letter of intent with LSU but was released from that commitment last month.
Morgan averaged 13.5 points, 11 rebounds and four blocked shots for South Oak Cliff.
(photo by Erkki Corpuz)
Labels: Recruiting Misc News