Mbah a Moute To Forego Final Year At UCLA
By Bruin Basketball Report
Luc Richard Mbah a Moute announced today he has decided to remain in the NBA draft this summer and will forego his senior season at UCLA. He plans to hire an agent immediately.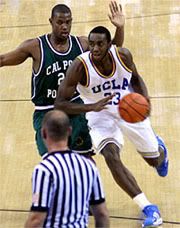 The junior forward waited until the last moment to announce his intention to pursue a professional basketball career.  Collegiates had until today to withdraw their names from the draft to maintain their NCAA eligibility. 
"Luc had a great career at UCLA, and I'm really proud of everything he helped our team accomplish during his tenure as a player at UCLA," Bruin Head Coach Ben Howland said during a press conference this afternoon. "He was the freshman of the year in the conference, won three Pac-10 titles and started in three Final Fours, but, more than anything, he is a winner."
Mbah a Moute averaged 9.1 points and 8.2 rebounds in his freshman season on his way to Pac-10 honors. However his statistical numbers decreased the last two years, as a sophomore he averaged 8.2 points and 7.4 rebounds and as a junior he recorded 8.8 points and 6.0 rebounds with corresponding decreases in his field goal shooting percentage.
However, Mbah a Moute's value to the UCLA team did not show up in the box scores instead it was the intangibles he brought to the Final Four teams.  He was most effective on the defensive end while disrupting an opponent's offensive flow with his activity and length.  On the offensive end, he contributed with solid screens and hard work around the boards and loose balls. 
"I'm sure he'll continue to provide that great attitude and work ethic at the next level in the NBA," Howland said. "I will always be grateful and appreciative of Luc. He's an outstanding player and an even better person."
Its unclear at this point whether Mbah a Moute received a draft guarantee from an NBA team. Reports indicate he is a borderline first-round to mid-second round choice. However, some teams have indicated they were enamored by his combined size, speed, and track record of winning at UCLA. He had workouts with multiple NBA teams including the Celtics, Trailblazers, and Bulls. 
Mbah a Moute's decision today comes with some risk.  Without a first-round guarantee, if he is not selected in the first-round then he does receive a guaranteed NBA contract.  However, Mbah a Moute has stated earlier he would enter the draft if he received just a second-round guarantee.
As a junior, Mbah a Moute received an honorable mention All-Pac-10 and honorable mention Pac-10 All-Defensive Team selection. His 775 rebounds rank him No. 15 on UCLA's career list. He became the first Bruin since Bill Walton, Keith Wilkes, and Greg Lee to start in three straight Final Fours.
"After speaking to my family and going through the process, I feel like the time is right for me to take the next step in my basketball career and keep my name in the NBA draft," Mbah a Moute said. "I had the greatest time of my life at UCLA. Starting in three-straight Final Fours and winning three straight Pac-10 titles is something I'll never forget. I will be a Bruin forever."
Its not for certain that fellow Cameroonian Alfred Aboya will return next season, although its thought that Aboya will indeed return . Aboya will be playing in the Get Better summer league this June.
With the departure of Mbah a Moute, it leaves UCLA with James Keefe, probably Aboya, and incoming freshmen J'mison Morgan and Drew Gordon in the post positions. Nikola Dragovic is expected to return next season as well and it wouldn't be a surprise to see him play the four at time. 
If Mbah a Moute had returned next season the Bruins were expected to be a favorite for a fourth consecutive Final Four.  Without the three-year starter and the departure of freshman Kevin Love, the Bruins will be relying heavily on prior role players and incoming freshmen to shore up the front line.
(photo credit: J Rosenfeld)
Labels: Team Misc News