Forward Brendan Lane Verbally Commits To UCLA
By Bruin Basketball Report
Junior Brendan Lane from Rocklin High School near Sacramento has verbally committed to play at UCLA in 2009.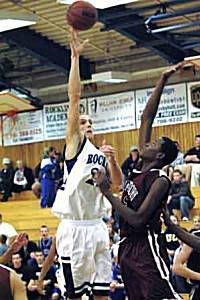 The talented 6'10 205lb forward averaged 20 points and 11 rebounds last season at Rocklin. Along with earlier commit, Reeves Nelson, it gives the Bruins two of the best forwards in the West from the 2009 class.
"I thought UCLA was the right place, so I committed today," Lane said on Saturday. "I definitely like the place, the academics, the location, everything about it."
Lane wanted to play his college ball in California and also had both Stanford and California on his short list, however, with his interest to learn how to play better defense, UCLA was the obvious choice to him. In addition, the recent coaching upheavals at Cal and Stanford played into Lane's final decision.
"UCLA's style is definitely where I want to be," Lane said. "I want to have the defensive mentality they have at UCLA. The mentality that Ben Howland coaches."
Lane is a versatile forward who can score from inside and has a good midrange jumper. His size and mobility will allow him to play either the 3 and 4 spot on the floor.
"I definitely like to play up-tempo," Lane said. "I am a forward who can play inside, but step outside and make a shot."
Lane will likely sign a national letter of intent with UCLA during the November signing period.
(photo credit: SacBee)
Labels: Recruiting Misc News