Morgan Granted Released From NLI By LSU
By Bruin Basketball Report
South Oak Cliff High School senior J'Mison Morgan was officially granted a release from his national letter of intent with LSU, Tiger head basketball coach Trent Johnson announced today.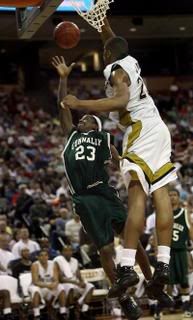 Last November Morgan chose LSU over a host of top schools, including UCLA, and signed on with the Tigers. However, Morgan and his family began to waver on the commitment when John Brady was fired as head coach after the season.
Despite numerous meetings with Coach Trent Johnson, Morgan felt the situation had changed at LSU and decided to pursue his release.
"The bottom line with me will always be that I want players here who want to play for LSU," Johnson said. "There is some closure with this decision, but no player will ever be bigger than the program."
With his release granted by LSU, Morgan can now choose from numerous suitors to play college basketball next season. He stated earlier that UCLA was his favorite although it wouldn't be surprising if other schools begin to step up their efforts to recruit Morgan during this period.
With the graduation of senior Lorenzo Mata-Real and likely departure of Kevin Love to the NBA, the Bruins are in need of depth at the low post.
Morgan, a 6'10 265lb skilled big man, does not need to sign a letter of intent with a new school, instead he'd be offered a scholarship. Interestingly, the scholarship offer would not bind him to the school, his eligibility status is impacted only once he officially enrolls for his freshman year.
(photo credit: Dallas Morning News)
Labels: Recruiting Misc News