Brad Holland Joins UCSB Coaching Staff
By Bruin Basketball Report
Former UCLA basketball player and coach, Brad Holland will join the UC Santa Barbara basketball staff as an assistant, head coach Bob Williams announced yesterday.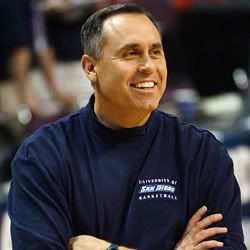 "I think this is a spectacular addition for us," Williams said. "Having the opportunity to add someone of Coach Holland's credentials and background to our staff is awesome. He is a proven winner at the mid-major level with a gifted eye for assessing talent, and just the mention of his name in basketball circles everywhere makes people stand-up and take notice."
Holland, a former head basketball coach at the University of San Diego from 1994-2007, is San Diego's all-time leader in coaching victories with 200. A two-time West Coast Conference Coach of the Year, he guided the Toreros to nine winning seasons and 11 campaigns with a mark of .500 or better. In 2006-07, Holland's 13th and final season at USD, he led the program to an 18-14 record and into the semifinals of the WCC Tournament.
"I've been looking to get back into coaching, and to get back in with a coach I know well and respect is a great opportunity," commented Holland. "UCSB is a very good program with a winning tradition, and it is also an outstanding university. Those things make this a good fit for me."
Prior to coaching at San Diego, Holland spent two seasons as the head coach at Cal State Fullerton. In his first season, 1992-93, the Titans went 15-12, their first winning season in four years. Prior to his tenure at Fullerton, Holland was an assistant coach at UCLA, from 1988-1992, under Jim Harrick.

While at UCLA as a player, Holland was the last high school player recruited by Coach John Wooden. After a senior year in which he averaged 17.5 points and 4.8 assists, earning him honorable mention All-American recognition, Holland was drafted by the Los Angeles Lakers with the 14th pick in the NBA Draft.
As a rookie, he was a member of the Lakers' 1980 NBA Championship team, and scored eight points against Philadelphia in the decisive sixth game of the championship series. He played three seasons in the league before retiring in 1982.
Read BBR's Interview with Coach Brad Holland from June 13, 2006
(photo credit: AP)
Labels: Team Misc News