Howland Marvels At Love's Development
By KS Wong
Bruin Basketball Report
With Kevin Love piling up postseason honors on his resume, most notably his recent AP First-Team All-American selection, UCLA Coach Ben Howland took time to reflect on his good fortune of having Love in Westwood this season.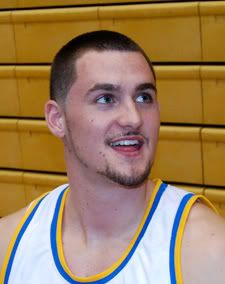 As one of the highest profile prep stars to join the Bruins in decades, Love has had to deal with lofty expectations.
"When you're ranked the No. 1 high school player in the country, there are high expectations," Howland said. "The great thing is, I think he's exceeded my expectations for how good he would be as a freshman and I have high expectations. He's done a great job."
After breezing through the early portion of the non-conference schedule and racking up double-doubles, Love found himself in a unfamiliar spot on the bench at the end of a close contest against Texas.
Howland, looking for better interior defense, went with senior Lorenzo Mata-Real down the stretch against the Longhorns - a game UCLA eventually would lose 63-61. Mata-Real is a veteran player who started every game as a junior and was familiar with the team's defensive scheme. Clearly at the time, the UCLA coach did not have the confidence yet in his freshman phenom on the defensive end.
But Love got the message from the game - loud and clear. Even a player, who was averaging a double-double, would ride the pine under Howland if he couldn't defend.
Love has improved his defense tremendously over the course of the season. His rotations are quicker, his hedges on screens are more crisp, to the point he can be a defensive force in the paint. Against Texas A&M, Love recorded seven blocked shots. Moreover, at the end of the conference season, he received honorable mention for the Pac-10 All-Defensive Team.
"I didn't make much defense in high school," Love said. "I just kind of stood around and waited for rebounds and got four, five blocks a game, but other than that I wasn't out 20 feet from the basket trying to defend, but I've gotten a lot better."
"He's developed into a good defensive player," Howland said. "And a lot of it is the experience of learning so many new things. Every program is different in terms of how they play defense, or what they teach. We have a lot of intricate rotations and we expect to do things defensively that are sometimes, maybe, unique. But he's really, really tough, he's hard-nosed, he's really become a good defensive player."
In addition to his improvement on defense, Love has been the major cog in the UCLA offense. At the beginning of the season, Love predicted he might be able to average a double-double, a prediction Coach Howland thought at the time would be extremely difficult to acheive considering the high level of competition the Bruins would face game in and game out. Yet, Love has been a double-double machine, averaging 17.6 points and 10.7 rebounds.
With the tremendous success that Love individually and his team has achieved on the court, its highly likely this will be his only season at UCLA. But Howland understands the reality of the current environment in collegiate sports and is realistic and supportive of his star players.
It's more difficult from the standpoint of being able to plan the future," Howland said. "Having a great player for one year or two years is still a great problem that you want to have. You want to get the best players that fit into the program that are good kids. Arron Afflalo is already planning to come back and take some summer school classes to continue working toward finishing his degree; he's very close. Those are great kids, so I appreciate the opportunity to work with them."
[youtube http://www.youtube.com/watch?v=l_t4vbPWsiQ&hl=en]
(Kevin Love at West Regional courtesy of Erkki Corpuz)
(photo by Bruin Basketball Report)
Labels: Bruin Player News (Current)