Howland Clarifies His Players Status Next Season
By Bruin Basketball Report
In a press conference on Wednesday UCLA Head Coach Ben Howland attempted to clarify reports and rumors of Bruin players leaving UCLA early for other pursuits.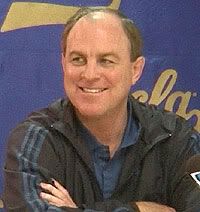 Howland stated freshman Kevin Love and junior Darren Collison have not yet decided whether they will make themselves available for the NBA draft despite numerous rumors.
"It's an erroneous report," Howland said," Kevin left Wednesday afternoon to go home. He's going to sit with his parents over the weekend and try to formulate some decision as to what he wants to do."
"I never met with Darren on Monday. I never spoke to Darren on Monday. I did not see him. I did not email him. I did not text him," Howland reiterated.
Sophomore guard Russell Westbrook, who had a break-out season and impressed NBA scouts, is reportedly contemplating whether to enter the draft but he has not made a decision. However, Howland stated that if Westbrook returned next season that he'd be the team's starting point-guard.
If both Collison and Westbrook leave this summer, it would leave Howland with inexperience at the point guard spot - perhaps the most important position in a Howland run-offense.
College players have until April 27 to declare for the June draft.
Two other Bruins, Josh Shipp and Luc Richard Mbah a Moute, may potentially test out their NBA stock this summer, but most likely they will both return next season. Both players are not expected to be first-round draft picks in this year's draft.
Howland said junior forward Alfred Aboya, who is graduating with a degree from UCLA this June, is currently considering his options for next season. He may return to the team or he may focus entirely on his graduate school studies. Howland thinks Aboya will likely return next season.
Some reports indicate sophomore forward Nikola Dragovic is considering a return to Serbia to play professionally rather than return to UCLA next season.
"I think Dragovic wants to come back," Howland said. "My thing for him is to become more committed as a basketball player."
UCLA has the top rated recruiting class arriving in Westwood next season in Jrue Holiday, Malcolm Lee, Jerime Anderson, and Drew Gooden. Coach Howland may still add to this class, however, his moves are complicated by the fact he is uncertain who is staying or leaving the team this summer.
"It's too early to say how many guys we're going to have here next year from this current team," Howland said. "We'll see about Alfred, Josh and Luc. There's a good chance they could be here. There's also a chance they would go. So there is a lot of uncertainty, which doesn't make my job fun at this time of year."
(photo credit: AP)
Labels: Team Misc News