Final Four Post Game Press Conference: Coach Howland, Love, and Westbrook
NCAA MEN'S FINAL FOUR
April 5, 2008
Ben Howland
Kevin Love
Russell Westbrook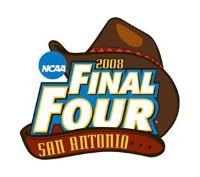 SAN ANTONIO, TEXAS
THE MODERATOR: Coach, if you could just give us a quick overview of the game, then we'll start with questions.
COACH HOWLAND: Sure. Obviously we're very disappointed to get all the way here and lose. But you have to give credit to Memphis State. They're a very, very good basketball team. Obviously, 38-1. They played very, very good basketball today.
We had some opportunities. We cut it to three. Didn't really feel great about how we played the first half. They hurt us in transition early in the game. Every time we would turn it over, they took advantage. They had nine offensive boards in the first half. And their guard play was really, really good. Obviously, Rose and Douglas-Roberts have been very consistent in at least the last three games, scoring about 25 each.
But I thought we made a nice run to get back to three. And then we just got off to a poor start. We were fighting an uphill battle the whole second half. We had a couple three-pointers go in and out that would have cut it to four twice. Couldn't get it to go.
You know, as disappointing as this loss is, it's hard to be here three years in a row and not come away with a championship. I'm still very proud of this group of young men. I thought this was our best team, our best chance. Memphis State was the better team today and you have to credit them.
THE MODERATOR: Questions for the student-athletes.
Q. Russell, talk about playing against Derrick Rose, Chris Douglas-Roberts, how tough they were, the challenge of having to do that?
RUSSELL WESTBROOK: I mean, they're two great players. They came out and was ready to play tonight. It really showed. Like coach said, they both have 25 each, they've been real consistent all year long. They just was real tough players.
Q. Russell, a lot was made about the pace of this game. Could you talk about -- do you feel like Memphis controlled the tempo early. It seemed to favor you personally.
RUSSELL WESTBROOK: A little bit. I mean, it started off in the first half, they got a lot of transition points, a couple buckets, get back in transition . That's their game. They really took the opportunity of that in the second half and finished the game off.
Q. Kevin, can you talk about going up against Dorsey, a guy who had no points like he did, came up pretty big for them.
KEVIN LOVE: Yeah, he did. That's their man out there. He had 15 rebounds in 27 minutes. He was going in and out of the game. I didn't even realize it.
But, you know, I felt like I did a good job on him defensively along with the rest of the team. But, you know, he just kept getting to balls, had a couple big blocks, just played a pretty good game for only playing 27 minutes.
Q. Kevin, how much what they were doing defensively threw you out of your comfort zone, the double-teams, trying to disrupt your rhythm?
KEVIN LOVE: I wouldn't necessarily say it threw me out of my comfort zone. I had two or three shots that went in and out. They were double-teaming me. They had players, you know, swarming me, coming at me.
You know, there was a couple plays where, you know, I threw the ball away. I think I had two turnovers. But other than that, other players, we just need to step up and hit big shots. Like coach mentioned, we had a couple of them down the stretch that went in and out. You know, we needed to keep executing, and we could have cut it to four a couple of times, and we just didn't do that.
Q. Kevin, you have played a lot of good teams this year. You played a lot of big games. Can you summarize from your perspective how good you think Memphis is. Seemed like every time you stopped them, another leak would spring on you guys.
KEVIN LOVE: Right. At this stage I feel like Memphis is definitely the best team we've played. They just got up and down the court very well. It seemed like every team that we shot a quick shot or shot an uncharacteristic shot on our team, they were, you know, down the floor with less than five seconds in transition, scoring another bucket.
So that was tough for us. We didn't drop our heads. We kept fighting. But it just seemed like they got some breaks. You know, sometimes you need that.
Q. Kevin, you and Derrick shared a moment together at the end of the game. Did he say anything that you remember at all? If this was your last college game, how much did you enjoy this year in college both on and off the court?
KEVIN LOVE: You know, Derrick, all he said to me was, just being a good friend of mine, he said, You're a winner, keep your head up.
You know, I feel like I am a winner, and so is he. We just didn't happen to come out on top today. I haven't given it any thought -- you know, the season just ended. I haven't given any thought about if it's my last college game. As of right now, I'm still a UCLA Bruin. I'm enjoying my time and I'll be at class on Monday.
Q. I'm asking how much have you enjoyed college?
KEVIN LOVE: I was just trying to deaden those questions as quickly as I could (smiling).
This has been the best year of my life. I know we didn't come out on top. Coach mentioned that. There's only one team at the end of the year that really feels truly satisfied. You know, we've had a great year. We have a bunch of great players. We've been a true family. Just being part of the UCLA program has been really huge for me. Like I mentioned, it's been the best year of my life inside basketball, outside of basketball, and family-wise, as well.
THE MODERATOR: Gentlemen, you can go. Thank you very much.
We'll continue with questions for Coach Howland.
Q. You knew their guards were going to be a handful coming in. They were able to post. They can drive it. They can shoot it. What did you try to do to stop them? Nothing worked very well.
COACH HOWLAND: Well, they ended up shooting 42%. They were at 40 the first half. Those two guys are their key guys, Robertson, Rose. They're just really, really good players. You know, they're hard to match up with because of their length and their strength.
We tried to double them when they got in the post. A couple times we were late to do so. And, you know, there's a reason why they've only lost one game and won 38. They're a very, very good team.
Q. Ben, last few years you ran into one of the great teams of the modern era. Having seen Memphis today, would you put Memphis in Florida's class?
COACH HOWLAND: I'll tell you what, Memphis is really, really good. When you look, you know, they both have strength in all areas. They're very well-coached, both teams. They can play fast. They can play a halfcourt game. They have good, you know, low -- like I was really impressed with Taggart, the way he came off the bench and helped them. They had the big kid last year from Florida, I can't remember his name. But they always played well against us in the two games we saw them. So they're similar in a lot of respects.
Q. Ben, what changes need to happen to have this team get here and win?
COACH HOWLAND: You know, every year's different. I don't know if there's some sweeping change that we need to do. I mean, it's very difficult, number one, to get here. There's only four teams that make it here each year, and it's a very difficult thing to do in itself. Unfortunately for us, we've run up against now three really good teams.
You know, the first year we got here, three years ago, we were fortunate. We were down 17 against Gonzaga. Make a miraculous comeback to win that game. We ended up beating Memphis to get here, and ran into a very good Florida team.
The following year, we I think had one starter back off of that team, and we met Florida again. They had every starter back. In this modern day, it's really unexpected when you win a national championship, you have players like Noah, the big kid from inside - what's his name?
Q. Horford.
COACH HOWLAND: Horford. They didn't come out. We ran into a team at the same time that had all five starters back, and we were retooling. I was really proud of the way we came back last year and got here. This year we ran into a great Memphis team.
So every year's different. Get a new coach maybe (smiling).
Q. How do you propose a team stops Memphis? They're obviously cruising, shooting free throws, playing so loose and confident.
COACH HOWLAND: Well, I think you got to take good care of the basketball and try to stop their transition game. We failed to stop the transition game early, sometimes off of, you know, a quick shot. We were 26-23, and we came down and shot a flying three. We don't have a lot of depth in the back court. So we had to play it maybe a little slower paced than Memphis would like to give ourselves a chance.
It depends on -- you know, for either Kansas, North Carolina, they both have a tough task at hand. They're both great teams. As I told our team after the game, Only one team is going to leave San Antonio completely satisfied. I'm just sorry it's not going to be us because I thought our kids had a great week of preparation and have had an unbelievable year.
But, again, I have to credit Memphis State, Coach Calipari. They're very, very good. They've had an unbelievable season thus far.
Q. For a guy who's known for being a great defensive coach, how impressed were you with them coming back in transition, getting the blocks?
COACH HOWLAND: They made a couple big blocks. Every time we jumped in the air to pass, it was a turnover that led to a basket going the other way. We had 12 turnovers. I would bet that half of those at least led to dunks or layups at the other end. They do a really good job of capitalizing on your mistakes. That's what good teams do.
THE MODERATOR: Thank you, coach.
Labels: Team Misc News