Chace Stanback Set To Transfer
By Bruin Basketball Report
Freshman forward Chace Stanback plans to transfer to another school at the end of the spring quarter, UCLA Head Coach Ben Howland announced today.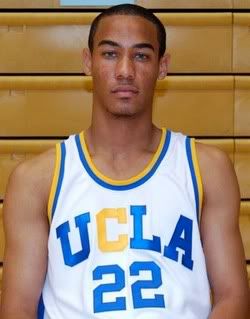 "Chace is an outstanding young man and we appreciate what he did for this program this past year," Howland said. "He helped us win a Pac-10 championship and get to the Final Four and we will always be appreciative of his efforts. We are supportive of him and his future in whatever direction he decides to go."
Stanback played sparingly in his first and only year at Westwood, appearing in 25 games and averaging 1.0 points and 0.7 rebounds in 5.8 minutes per game
The 6' 8-wing was the 2007 California Division I Player of the Year and a two-time state champion at Fairfax HS.
He has not made a decision as to where he will transfer.
"After speaking with my family and thinking about it for a long time, I feel that it is in my best interest to explore other opportunities," Stanback said. "I want to thank my coaches and teammates because they have helped me improve as a player and grow as a man and I am thankful to them for that. I have a lot of great memories and really enjoyed my time here at UCLA."
With incoming McDonalds All-American freshmen, Malcolm Lee and Jrue Holiday arriving, its uncertain how much playing time Stanback would have received next season on the wing. The Bruins also have Michael Roll and Josh Shipp, if he returns, at the position.
Stanback's departure opens up a scholarship next season and creates a scenario where the Bruin would have scholarships for all returning lettermen and incoming freshmen.
At present, Kevin Love, Russell Westbrook, Luc Richard Mbah a Moute, and Josh Shipp have declared for the NBA without hiring an agent. With Stanback's upcoming transfer, if all four lettermen decide to return next season, the Bruins will have 13 scholarship players - including the four players from its stellar incoming freshmen class (Lee, Holiday, Drew Gordon, and Jerime Anderson).
A NCAA Division I school is allowed 13 basketball scholarships per season.
(photo by Bruin Basketball Report)
Labels: Team Misc News