Wooden To Watch Final Four From Home
By The Associated Press
John Wooden will watch UCLA's Final Four run from the comfort of his armchair, and the 97-year-old coaching great believes this is the Bruins' year to win a record 12th national championship.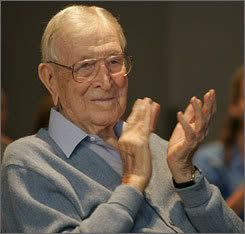 "(Two) years ago, we were in the Final Four and we finished second. Last year, we were third. Seems logical to be first this year, don't you think?'' he told The Associated Press by phone Monday.
Wooden is back home after stints in the hospital and at a rehab center. He broke his left wrist and collarbone in a fall at his suburban condo in February.
"I'm still having trouble getting around,'' he said. "Nothing to do with my fall, but my knees have been very, very bad. I use a walker and a wheelchair. Overall, I'm very fortunate at 97.''
Wooden's daughter, son and extended family are constant presences and he had friends drop by Monday. He won't be in San Antonio for the Final Four, but daughter Nan Muehlhausen will attend to present an award named for her father, as she has done the last couple of years.
Wooden's shadow continues to loom large over the UCLA program 33 years after he retired, having won 10 national championships, including an unmatched seven in a row. The Bruins' only title since then came in 1995 under Jim Harrick.
Wooden attended the championship game in Seattle that year, slipping out before the final buzzer to keep the focus on the players.
Coach Ben Howland calls himself "the caretaker of John Wooden's UCLA program.''
"That's what it is and always will be,'' Howland said Monday.
Informed of Howland's comments, Wooden joked, "My program? I retired in '75.'' Then he added, "I know what he means and I'm flattered.''
Wooden attended several UCLA games this season, sitting in his usual seat behind the Bruins' bench, until he got hurt.
The Bruins bring a 14-game winning streak into Saturday's national semifinal against Memphis.
"I thought going into the season that this was going to be coach Howland's best team at UCLA,'' Wooden said. "Success breeds success. You get a program going and it's easier to keep a program going that's doing well than it is to get there because you learn so much along the way.''
North Carolina and Kansas play the other semifinal, marking the first time all four No. 1 seeds have reached the Final Four.
"That is remarkable,'' Wooden said. "Any one of the four could win, but I wouldn't trade UCLA's chances for any of the other teams.''
(photo credit: AP)
Labels: Coach John Wooden