UCLA vs. Western Kentucky - Tourney Game Preview
By KS Wong
Bruin Basketball Report
Top-seed UCLA, playing in its third consecutive Sweet 16, takes on No.12 seed Western Kentucky on Thursday in a Western Region semifinal match-up in Phoenix Arizona.
The Bruins rallied behind freshman Kevin Love's 19 points and 11 rebounds to defeat a tough Texas A&M team, 51-49, on Saturday to advance to the next round.
One of the Cinderella stories of the tourney this year, Western Kentucky is making its first NCAA tournament appearance in five years. They upset No.5 seed Drake, 101-99, in the first round when guard Ty Rogers hit a 26-footer at the buzzer. In the second round, the Hilltoppers defeated No.13 seed University of San Diego, 72-63, to advance to the Sweet 16 behind senior Courtney Lee's 29 points.
The Hilltoppers (29-6) earned an NCAA bid after winning the Sun Belt Conference tournament championship. They had finished behind South Alabama during regular season conference play.
In nonconference play this year, the Hilltoppers narrowly missed a chance at signature wins earlier in the season, losing by three points to Gonzaga and bowing to Tennessee by six. They did defeat Michigan in Ann Arbor, 73-69.
Although known for its offense prowess this season, Western Kentucky is also an excellent defensive club. They will typically press full-court and double-team at almost every opportunity in order to create turnovers or pressure teams into speeding into a pace they're not comfortable with.
The Hilltoppers allowed just 66.1 points per game while holding opponents to just 42.1% field goal shooting. They average almost eight steals and force opponents into over 18 turnovers per contest. The Hilltoppers forced turnovers on 24 percent of opponents' possessions, 12th best in the nation.
It will be interesting if Western Kentucky employs its press against UCLA or if it'll be successful. The Bruins are difficult to press against since they have multiple good ballhandlers on the floor in Darren Collison, Russell Westbrook, and Josh Shipp, and a good passing big man in Kevin Love who can pass over the top of presses.
While the Hilltoppers will attempt to speed up the pace of the game, UCLA Coach Ben Howland will counter by controlling the tempo with a disciplined halfcourt set.
In addition, the Bruins have a huge advantage in the low post with Kevin Love and Luc Richard Mbah a Moute underneath. No doubt, UCLA will try to score in transition when the opportunity arises, however, they will attempt to get the ball inside as often as possible for the high percentage shot.
Mbah a Moute had an MRI on his left ankle Monday and the test results came back negative yesterday.
Western Kentucky is pin-point accurate from three-point distance. As a team, they shoot 40% on three-pointers, and four players shoot over 40% from beyond the arc. The Hilltoppers score 77.3 points per game on 47.6% shooting from the field.
The team is led by an experienced, senior backcourt of Courtney Lee, Tyrone Brazelton, and Ty Rogers.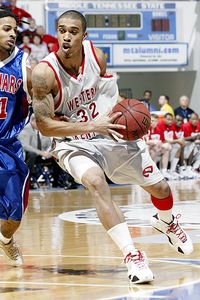 The Hilltoppers' offense usually culminates in a spectacular play by senior star Courtney Lee (6'5, 200, Sr). A superb shot creator who's polished his game over the past four years to become a probable NBA draft pick this summer, Lee was named the Sun Belt Conference player of the year
Lee leads the team in scoring with 20.5 points on 49% field goal shooting and 40.4% from beyond the arc. He also knows how to get to the foul line often where he's a deadly 82.5%.
UCLA's Russell Westbrook will get the opportunity to lock down Lee first, although Mbah a Moute will likely get the opportunity as well. Perhaps the best way to defend Lee is to deny him the ball, since once he gets it in his hands, he is very difficult to stop.
Coach Ben Howland calls WKU's point guard Tyrone Brazelton (6'0, 180, Sr) the quickest guard the Bruins have faced all season. He is usually the one getting the ball to Lee, but he also has a solid pull up jumper out to the three-point arc.
Brazelton averages 13.9 points and hits on 41.7% of his three-pointers. He is also very good scoring or dishing out to teammates off the dribble. Darren Collison will have a tough challenge keeping Brazelton in front of him. Collison has been burned by quick, physical penetrating guards at times this season.
The Hilltoppers will no doubt spread the floor with their three-point snipers, and if Collison is unable to control Brazelton's dribble penetration, the Bruins will have a difficult time on the defensive end tomorrow. Recall, Washington's Justin Dentmon did a similar number on Collison in the Huskies' upset win against UCLA in Seattle this season.
The team's third senior guard is Ty Rogers (6'3, 195, Sr). He is another deadly shooter from the perimeter, hitting on 37.4% on his three-pointers. Rogers is the type of player who always finds himself around the ball and is a solid defender.
Josh Shipp will be matched-up against Rogers. Shipp is recovering from a strep throat infection. He worked hard earlier this week with Coach Howland to improve his three-point shot. Shipp was held scoreless in the last game against Texas A&M and the Bruins will definitely need production from him on Thursday.
Jeremy Evans (6'9, 190, So) starts at one forward spot, a long, rail-thin player, he is effective out to the three-point line. Evans shoots 42.1% from beyond the arc. He also leads the team in rebounding with 5.2 a game and averages 1.5 blocked shots.
At the other forward position is D.J Magley (6'9, 260, Fr) who will likely start off guarding UCLA's Kevin Love. However, Magley tends to be foul prone ,and unfortunately for the Hilltoppers, they are very thin up front. They only have Boris Siakam (6'7, 225, Sr) in the rotation to back-up Magley.
While Western Kentucky lacks depth in size, they have no shortage of three-point shooters coming off the bench with A.J Slaughter (6'3, 180, So) and Orlando Mendez-Valdez (6'1, 180, Jr). Slaughter, the team's third leading scorer at 7.8 points, shoots 44% on three-pointers and Mendez-Valdez hits on 39.4%.
Not surprisingly, a third of the Hilltoppers' shot attempts are three-pointers. UCLA will need to do a solid job closing out on shooters since almost everyone on the floor for Western Kentucky will be proficient long-range shooters. In addition, the Bruins will need to do a good job stopping dribble penetration by Brazelton who is very good at kicking out to the open shooter on the perimeter.
UCLA has the obvious size and talent advantage over Western Kentucky, however, the key to the game will be tempo. If UCLA is able to control the tempo of the game with its defensive pressure, and on the offensive end, getting the ball inside to the bigs, they should win. But this is a very talented and experienced Western Kentucky team, and as it showed against Drake, they know how to win.
Game Snapshot
NCAA Tournament Sweet 16
UCLA vs Western Kentucky
Time: 6:40PM
Place: U.S. Airways Center, Phoenix
TV: CBS
Radio: AM 570
(photo credit: WKU Athletics)
Labels: Game Previews (Tournament)