UCLA's Road To Final Four Stays Out West
By KS Wong
Bruin Basketball Report
Complete 2008 NCAA tournament field of 65 here
UCLA earned the top seed in the West Region of the NCAA men's basketball tournament on Sunday. It is the first top seed for UCLA since the 1995 season when the Bruins last won the NCAA championship.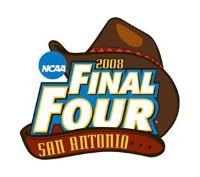 North Carolina, Memphis, and Kansas earned the other top seeds in the tournament. All four No.1 seed teams each won its conference tournament championship.
The Bruins are now guaranteed to stay out West for the entire NCAA tournament. Their first and second-round games will be played at the Honda Center in Anaheim on Thursday, March 20 and Saturday, March 22; and Sweet Sixteen and Elite Eight games at the U.S. Airways Center in Phoenix on Thursday, March 27 and Saturday, March 29. The Final Four is set at the Alamodome in San Antonio on April 5 and 7.
"It's great that we're close to home," Pac-10 player and freshman of the year Kevin Love said. "This is my first time around, so I'm excited for it."
UCLA plays No. 16 Mississippi Valley State of the Southwestern Athletic Conference (SWAC) in its first game of the tournament on Thursday. Tipoff is scheduled for approximately 6:50 PM PT
The Delta Devils (15-12, 12-6) received its bid after winning the SWAC conference tournament. If the Bruins win then they will face the winner of the No.8 BYU vs. No.9 Texas A&M contest.
"We don't want to be the first team in the tournament to be the No. 1 seed that loses to a No. 16," UCLA Coach Ben Howland said. "That's going to happen someday. I just hope it's not us on Thursday."
The West Region bracket sets up a potential blockbuster No.1 UCLA vs. No.2 Duke in an Elite Eight match-up.
"I called it a couple days ago, I go, 'If we're a No. 1 seed, they're going to put Duke on our side,"' Love said. "They want to make matchups, they want to make big-time games for TV. We're not looking too far ahead, but I do see it down the road. That would be a fun game to play in."
The rest of the West region bracket:
No.1 UCLA plays No. 16 Mississippi Valley State
No. 8 BYU plays No. 9 Texas A&M,
No. 5 Drake plays No. 12 Western Kentucky
No. 4 Connecticut plays No. 13 San Diego.
No. 2 Duke vs. No. 15 Belmont
No. 7 West Virginia vs. No. 10 Arizona
No. 6 Purdue vs. No. 11 Baylor
No. 3 Xavier vs. No. 14 Georgia
"They're saying we probably have the easiest bracket, which I disagree," UCLA guard Darren Collison said. "You've got to still go out there and win."
Six Pac-10 conference teams made the tournament: Stanford, Washington State, USC, Arizona, and Oregon join UCLA in the big dance. Bubble team Arizona State was left out. Arizona is making its 24th consecutive appearance in the tournament, the longest standing record.
Absent from the tournament are last year's two finalists, Ohio State and two-time defending champion Florida. The Buckeyes were a bubble team that didn't make it, and the rebuilt Gators saw their chances die with a first-round loss in the Southeastern Conference tournament. They're the first defending champs to miss the tournament since Kansas in 1989, when the Jayhawks were on probation.
The Bruins boast a 14-2 record on the season against teams competing in this year's NCAA Tournament.
Two Bruins, Kevin Love and Luc Richard Mbah a Moute, are recovering from injuries sustained last week during the Pac-10 tournament.
Kevin Love suffered bask spasms in the Pac-10 championship game against Stanford. He received treatment on his back on Sunday.
"If I stand too long on it, it kind of tightens up on me a little bit," Love said. "By the time we play, I think I'll be fine."
Junior Luc Richard Mbah a Moute was in a walking boot on Sunday in his recovery from a sprained ankle, hoever he is no longer using crutches. He was hurt in the Pac-10 tourney game against USC on Friday.
"It feels good as of right now," Mbah a Moute said. "I can't say if I'll be able to play Thursday, but I'm sure I'll play sometime this week."
Labels: Team Misc News