Mbah a Moute Has MRI On Ankle, Shipp Taking Antibiotics
By KS Wong
Bruin Basketball Report
At a press conference Monday afternoon, UCLA Coach Ben Howland announced forward Luc Richard Mbah a Moute was set to undergo an MRI on his sprained left ankle.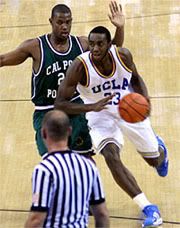 "His ankle was swollen and I would say pretty severely swollen yesterday," Howland said. "I was surprised and a little bit down by it. He's going to have an MRI today just to make sure everything is okay, but we don't anticipate any issues. Barring any unforseen abnormality in the MRI, I'm sure that Luc will gut it out and play."
Mbah a Moute had just 2 points on 1 of 4 shooting and six turnovers against Texas A&M on Saturday. Howland indicated that perhaps Mbah a Moute's play was off since he hadn't seen action in over a week.
"It hurt his timing that he hadn't practiced," Howland said. "His rebounding, defense and double-teams created a lot of havoc that helped us. I don't think we can advance much further without him."
Howland also reported junior Josh Shipp was recovering from a strep throat infection. He was given antibiotics for his strept throat after Saturday's game. Against Texas A&M, Shipp was 0 for 4 from the field and was scoreless in 37 minutes, however, he came up with a key block on the Aggies' final possession to help preserve the win for UCLA.
"He's feeling better today. Whether he was affected by his strep throat, I don't know that, but definitely, it's not a healthy thing," Howland said. "He just played through it."
Although the team did not practice on Sunday or Monday, Coach Howland worked with Shipp on his outside shooting. Shipp has been in a prolonged shooting slump from beyond the arc.
"He and I spent about an hour and 15 minutes today shooting," Howland said. "He took 325 shots, about 200 of them game shots. We'll do some extra shooting tomorrow. But he shot it great today so I was very encouraged by that. I would say half were three-point shots. He was 91 for 100 on free throws, we shot free throws in between each round. He was going really hard."
Against Texas A&M, Luc Richard Mbah a Moute, Josh Shipp and guard Russell Westbrook were a combined 3 for 18 shooting while Darren Collison and Kevin Love accounted for 75% of the team's offensive output. However, Howland wasn't too worried and expected his other players to step up in the next game.
"That's an aberration," Howland said. "We want to get more production out of our other three starters."
Top seed UCLA (33-3) plays No.12 seed Western Kentucky (29-6) Thursday night in the NCAA tournament regional semifinals in Phoenix.
(photo credit: J Rosenfeld)
Labels: Team Misc News