Bruin Recruiting: Prep News Roundup (3/3)
By Bruin Basketball Report
Prep News Roundup is published every Monday.
Commits
Stop Jrue Holiday and you stop the Campbell Hall boys' basketball team. One problem: More often than not, Holiday is unstoppable. Such was the case in Tuesday's 81-47 victory over La Canada in a Southern Section Division III-AA semifinal game at Harvard-Westlake High. The UCLA-bound senior guard scored 14 of his 24 points in the first half and finished with 12 rebounds, five assists, four blocks and two steals for the top-seeded Vikings, who advance to Saturday's title game against Price at the Honda Center in Anaheim. LA Times 2/26
After running its first two playoff foes out of the gym, the Crusaders ran into a team willing to play their urban-style game — both the balling and bravado. "We knew they'd come out and run with us and shoot 3s, and we were excited," Reeves Nelson said. "It's the playoffs now and everything is getting a little more intense." No one could match Nelson's intensity, as he scored a playoff-record 53 points to lead MC past Encina 122-100 in a Sac-Joaquin Section semifinal at Tokay High. Modesto Bee 2/27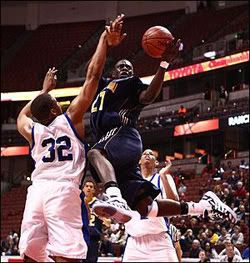 With 2,473 career points, Campbell Hall's Jrue Holiday needs 34 more to eclipse Greg Goorjian as the area's No. 2 all-time scorer. He will get his chance in today's 9 a.m. Div. III-AA championship against Price of Los Angeles at Honda Center. Holiday has 10 consecutive double-doubles in points and rebounds. The UCLA-bound senior is averaging 25.9 points, 11.9 rebounds and 8.8 assists. He also has five triple-doubles, the last Feb. 7 against Brentwood (30 points, 12 rebounds, 10 assists). Goorjian scored 2,506 points for Crescenta Valley from 1976-78. The area leader is Mitchell Butler with 2,682 points for Oakwood from 1986-89. LA Daily News 2/29
With a combination of tight defense, smooth fundamentals and deadly outside shooting - plus a lot of Jrue Holiday thrown in - Campbell Hall High of North Hollywood's burgeoning basketball dynasty expanded in a big way Saturday. The Vikings (27-5) defeated eight-time section champion Price of Los Angeles in the Southern Section Div. III-A championship at Honda Center - and it wasn't even close, a 73-38 victory that could have been even more decisive had a running clock not been employed for the final six-plus minutes after Campbell Hall stretched the lead to 40 points....Holiday, the area's third-leading all-time scorer, finished with 20 points, including several awe-inspiring drives to the basket, as well as 12 rebounds and eight steals. LA Daily News 3/2
Reeves Nelson, the 6-foot-7-inch junior who has verbally committed to UCLA, scored 30 to set a section record for points in a postseason tournament. His 121 points surpassed the mark of 118, set by legendary Bill Cartwright in 1974. This is the third Division IV title in that span. Two titles came in D-I -- before the section forbid teams from moving up to play larger schools -- and five were in D-V, for the smallest schools. Modesto Bee 3/2
Recruits
Indianapolis big man Stephan Van Treese says he is waiting to see who Indiana hires before further contemplating his interest with the Big Ten program. Rivals 2/26
Colony, which won the Southern Section in 2006, now advances to meet Bishop Montgomery, a 71-63 winner over Eisenhower, in Saturday's final at the Honda Center in Anaheim. Tyler Lamb led Colony (22-9) with 17 points and Bobby Wagner added nine SB Sun 2/26.
And still growing. He's been told that he can expect to add a couple more inches. "Maybe around 7-foot, hopefully 7-1," he said. With a post game just starting to emerge, he did his best to describe the current state of his game. "I'm a big man, but I don't like to strictly just post up," explained Anthony Stover. "I like to bring it out some times and hit the short range jump shot and my favorite thing to do is defense. I go after every shot to block it. I average about nine blocked shots a game." His stats speak for themselves. "I'm averaging around 12 points, 12 boards and nine blocks a game, almost a triple double." he added. Sports Washington 2/26
Top-ranked and two-time defending state champ McGuinness rolled to another Class 4A region C title over the weekend. The Irish defeated Blanchard 82-47 and Cache 77-38. McGuinness faces Woodward Friday at Chickasha at 8 p.m. Ryan Randolph added 14, while Daniel Orton and Joel Cranmer finished with 13 apiece. OKC Friday 2/26
Going inside proved almost impossible for the Falcons as 6-foot-11 Cavers sophomore Jeremy Tyler had 14 rebounds and eight points in controlling the boards. His senior brother, James, proved a thorn in Torrey Pines' side by pitching in 16 points, giving the Cavers balanced scoring. "We could have been ranked higher, we probably should have been No. 2," said Jeremy Tyler, the No. 1 10th-grader in the nation according to rivals.com. Union Tribune 2/27
The 6-foot-11 junior, who just helped Christ School (34-2) capture its second straight NCISAA 3-A championship, said Wednesday that he has committed to North Carolina's biggest rival – Duke. "I'm a Duke fan now," Mason Plumlee said. "I'm excited that I'll get to be a part of such a great rivalry. Citizen Times 2/27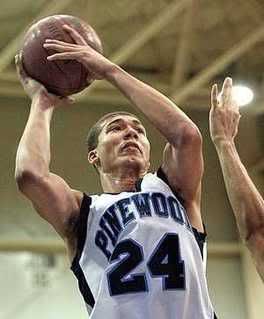 His lanky 6-foot-9 frame and the light 5-o'clock shadow darkening Milton Jennings' dimpled chin are not the only signs of the Pinewood Prep star's growth. Once a standout by default because of his size, Jennings has developed into a junior power forward billed as the best prospect to come out of the state in several years. The State 2/8
Although plagued by some foul problems of his own, Rocklin's 6-10 junior center Brendan Lane played well in his 25 minutes. He scored 16 points, grabbed six rebounds, had four blocks and two of the Thunder's 12 steals. "We really stepped it up," Lane said. "We knew if we got on them and pressured them it would force the tempo in our favor." Sac Bee 2/29
Milton Jennings scored 10 of his game-high 28 points in the second quarter when he hit two 3-pointers and helped turn a 14-11 first-quarter lead into a 37-27 advantage. By the middle of the third quarter, the Panthers felt comfortable enough to turn its offense into a high-octane, run-and-gun, alley-oop show. Post Courier 2/29
The Tigers started 6-foot-8 Greg Smith and 6-6 Phillip Ward inside, a pair of high-leaping, athletic players. "I never played against anyone that big before," said Jenson, Centennial's 6-5 junior forward who led the Hawks with 15 points and nine rebounds. Smith finished with 16 points and eight rebounds and Ward had 16 points and 12 rebounds. The Tigers finished with a 46-27 rebounding advantage and shot 54 percent from the floor (29-of-54). Bakersfield Californian 2/29
Having guided Compton Dominguez to 10 Southern Section championships and six state titles in boys' basketball, Coach Russell Otis doesn't let his players get away with anything. So it came as no surprise Tuesday night when he benched 6-foot-7 Jordan Hamilton, averaging 29 points a game, in the second quarter of a semifinal playoff game after Hamilton threw up a wild, off-balance shot. "None of them are scared of me," Otis said. "They just know I'm not going to tolerate nonsense." The message got through to Hamilton, who finished with 20 points and was on his best behavior in the second half of Dominguez's 58-52 victory over Santa Margarita. LA Times 2/29
Colony's 6-4 sophomore, Tyler Lamb, who averaged 19 points per game during the regular season, plays every position on the court. The maturation of the youngster next to 6-8 senior center Michael Bostic and junior point guard Gene Saulsberry fueled Colony to an undefeated run through the Mt. Baldy League. SB Sun 2/29
Cavers faithful created a sea of blue at Cox Arena Friday night as third-seeded San Diego upset top-seeded El Camino in overtime 74-68 for the San Diego Section Division I boys basketball championship.San Diego sophomore Jeremy Tyler finished with 23 points. His brother, senior guard James Tyler, had 19, including six in the fourth quarter and four in overtime. Union Tribune 2/29
The Knights held Bostic to nine points in the 60-45 victory. No Colony player reached double digits, including Tyler Lamb, who had nine points on three-for-19 shooting. Cobbs, who played travel ball against Lamb in elementary school, is looking forward to reminding Lamb of his performance. LA Times 3/2
Only time will tell what will become of Renardo Sidney. With any luck, his future will be full of brightness: lined with more fame and fortune than most of us could handle or hope for. But there are still years to go between then and now. Between the junior year for a teen who is arguably America's best high school basketball player, and the NBA, where potential stardom awaits. First he must finish high school. Then he must head to college for at least one year. Anything could happen. Injuries, maybe. Burnout, possibly. Ego gone haywire, well, I doubt we'll see Sidney's Southern, hard-nosed father let that happen. LA Times 3/2
Displaying dazzle, determination and supreme confidence, Drew sliced his way for 24 points and six assists to help the top-seeded Toreadors defeat Los Angeles Fairfax, 65-55....Taft (25-3) used balanced scoring and an effective man-to-man defense designed to contain Fairfax's 6-foot-10 junior center Renardo Sidney. Sidney finished with 23 points, including six dunks, but he failed to make an impact when Taft started to pull away late in the third quarter. LA times 3/2
(photo credit: AP and The State)
Labels: Prep News Roundup