Wooden Hospitalized After Fall At Home
By the Associated Press
John Wooden broke his left wrist and collarbone in a fall, leaving the former UCLA basketball coach hospitalized Friday.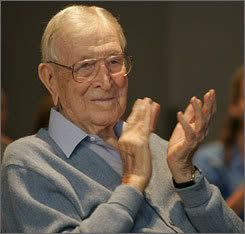 Daughter Nan Muehlhausen said the 97-year-old Wooden fell in his condominium Thursday night. She said Wooden was resting comfortably in a hospital and visited with family members throughout the day.
"Dad's spirits are good," Muehlhausen said in a statement. "He is up and joking around with the family. He will probably be in the hospital for a couple of more days before he goes home."
John Wooden, 97, fell in his condo Thursday night, breaking his wrist and collarbone.
Wooden has a hairline fracture in his wrist and a fractured collarbone. He also hit his head, but a CT scan of his head and neck were negative.
The family didn't release the name of the hospital.
"We appreciate everyone's concern, but we are requesting that people do not call the hospital and do not try to visit Dad at this time," Muehlhausen said.
Wooden coached the Bruins to an unsurpassed 10 NCAA championships in the 1960s and '70s, including consecutive titles from 1967-73. His teams also had an 88-game winning streak.
"The entire UCLA community wishes Coach Wooden a speedy recovery," current Bruins coach Ben Howland said Friday night in Tucson, Ariz. "We are glad that his injuries are not more serious, and we look forward to seeing him when we return to Los Angeles."
Wooden, still an active presence around UCLA, gets around using a cane and Muehlhausen usually accompanies him. School officials last month asked fans not to bother him at games, because autograph-seekers had been lining up near his seat behind the Bruins' bench.
He was hospitalized for several days last April after having symptoms similar to those he had a year earlier, when he had to spend time in the hospital with diverticulitis, an inflammation of pockets in the colon. But doctors decided that his problem last year was a reaction to a combination of medications, including one for arthritis.
Wooden retired with a 620-147 record in 27 years at UCLA, where his stars included Kareem Abdul-Jabbar, Bill Walton, Walt Hazzard and Gail Goodrich.
He announced during the 1975 NCAA Tournament that he would retire after the championship game. The Bruins gave him a going-away present; they won the title game against Kentucky.
Labels: Coach John Wooden