UCLA Rises To No.4 In Latest Polls
By Bruin Basketball Report
A sweep over both Oregon schools coupled with key losses by Duke and Kansas last week helped propel UCLA to a No.4 ranking in both national polls this week. Both the Blue Devils and Jayhawks fell out of the Top 5.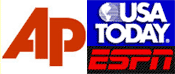 The Bruins (24-3, 12-2)routed Oregon State, 84-49, and followed it up with a tough 75-65 win over the Oregon Ducks on Saturday at Pauley Pavilion.
This week's polls crowned a new No.1 after the Tennessee Volunteers upset previously undefeated Memphis over the weekend, 66-62, in an epic battle between No.1 and No.2.
Besides UCLA, the Pac-10 was represented in both polls by Stanford (22-4, 11-3) at No.8 and Washington State (21-6, 9-6) at No.22.
UCLA's RPI ranking dropped this week despite two wins to No.9 fom No.7. Its SOS, strength of schedule, also took a hit as a result of playing lowly Oregon State at home, dropping to No.38 from No.21.
The Bruins travel to the desert this week to face Arizona State on Thursday and the Wildcats of Arizona on Saturday.
Complete Associated Press Poll (AP)
Complete Coaches ESPN/USA Today Poll
Complete Ken Pomeroy RPI Ranking
2007-08 UCLA Rankings Weekly Changes
Labels: Polls and Rankings