UCLA Holds Strong At No.6 In Rankings
By Bruin Basketball Report
UCLA (22-3, 10-2) maintained its spot at No.6 in both the AP and Coaches polls this week. The Bruins defeated the Trojans, 56-46, on Sunday at the Galen Center to stay one-half game ahead of Stanford for first-place in the Pac-10 conference.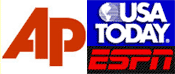 The Bruins maintained their RPI ranking at No.7 while the team's SOS improved slightly to No.21.
Two other Pac-10 teams, Stanford (21-4, 10-3) and Washington State (20-5, 8-5) remained in the top 25 polls.
No.9 Stanford split their two games on the road last week, losing to Arizona State and beating Arizona. While the Cougars at No.19 swept both Oregon schools on each of their respective home courts.
In the top five rankings of the polls, with both Duke and Kansas suffering a loss last week, the Tennessee Volunteers (23-2) moved up to No.2 in the polls thereby setting up a potential No.1 vs. No.2 match-up against Memphis next weekend at the Tigers' FedEx Forum.
Memphis is the only undefeated team remaining in Division I, holding a perfect 25-0 record.
Complete Associated Press Poll (AP)
Complete Coaches ESPN/USA Today Poll
Complete Ken Pomeroy RPI Ranking
2007-08 UCLA Rankings Weekly Changes
Labels: Polls and Rankings