Repetition Key to Shipp's Shooting Improvement
By KS Wong
Bruin Basketball Report
At UCLA's weekly media conference, Coach Ben Howland commented on junior Josh Shipp's recent shooting woes and took some responsibility for it.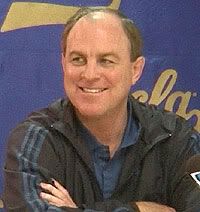 "I'm really confident Josh is going to get it going again," Howland said. "Some of his shooting problems is due to my poor coaching. He wasn't doing enough repetitions and shooting is all about repetition. I had him come in this morning and today he made 200 out of 285 shots."
Coach Howland stated part of the reason he doesn't normally work on shooting more often at practices, especially late in the season, is out of concern of wearing player's legs out, especially for starters who have logged major minutes this season.
"We didn't practice yesterday. Our guys lifted and did some biking and that's always good to try and get two days off, especially this time of year," Howland said.
Moreover, he felt perhaps Luc Richard Mbah a Moute may had inadvertently benefited from the rest he got from being injured the past two weeks.
"The long season takes a lot out of you and your body takes a physical pounding," Howland said. "I thought Luc benefited from being out 13 days with his injury, he seems to have gotten his legs back."
Howland was unhappy with the team's foul shooting performance against Oregon over the weekend, the Bruins made only 9 of 18 from the line for 50% - although he did state this year's team has been one of his best foul shooting teams. In conference play, the Bruins are making 76.2% of their foul shots. Howland said free throw shooting would certainly be a focus in practice.
Earlier this week, Nikola Dragovic strained a groin muscle and did not practice yesterday. Coach Howland was uncertain if Dragovic would practice tomorrow. His status for Thursday's game against Arizona State is unknown.
Coach Howland was impressed with the play of Lorenzo Mata-Real last week against both Oregon schools, and definitely forsees playing Mata-Real and Love together on the floor for some minutes, especially against bigger lineups such as in upcoming games against California and Stanford.
(photo credit: AP)
Labels: Team Misc News