Holiday and Lee Named 2008 McDonald All-Americans
By Bruin Basketball Report
Two members from UCLA's 2008 elite freshmen class, Jrue Holiday and Malcolm Lee, have been named to the McDonald's All-American team.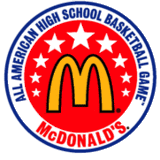 Jrue Holiday, a silky smooth 6'3 guard from Campbell Hall HS, is averaging 25.8 points on 60% field goal shooting, and hands out 6.9 assists per game. He also averages 11.5 rebounds, tops on the Vikings team.
From John W. North HS in Riverside, Malcolm Lee is averaging 24.2 on 57% shooting, 3.3 assists, and 2.6 steals. The 6'4 165 lb guard leads the Huskies in rebounding with 7.7 caroms per game.
Last year, UCLA was represented on the McDonald's All-American team by center Kevin Love from Lake Oswego HS in Oregon.
The McDonald's All-American game will be held on March 26th at the Bradley Center in Milwaukee, WI. The game will be televised live on ESPN.

Complete List of 2008 McDonald All-American Team
WEST TEAM
5 Luke Babbitt, F, 6-8, 225
Galena HS, NV (Reno, NV) Coll: Nevada
24 Demar DeRozan, F, 6-6, 210
Compton HS, CA (Compton, CA) Coll: USC
22 Larry Drew II, G, 6-0, 160
William Howard Taft HS, CA (Encino, CA) Coll: North Carolina
33 Michael Dunigan, C, 6-10, 248
Farragut Career Academy, IL (Chicago, IL) Coll: Oregon
21 Jrue Holiday, G, 6-4, 195
Campbell Hall HS, CA (Chatsworth, CA) Coll: UCLA
31 Scotty Hopson, G, 6-5, 180
University Heights Academy, KY (Hopkinsville, KY) Coll: Undecided
3 Brandon Jennings, G, 6-1, 165
Oak Hill Academy, VA (Los Angeles, CA) Coll: Arizona
11 Malcolm Lee, G, 6-4, 165
John W. North HS, CA (Moreno Valley, CA) Coll: UCLA
10 Greg Monroe, F, 6-10, 235
Helen Cox HS, LA (Gretna, LA) Coll: Georgetown
32 B.J. Mullens, C, 7-1, 260
Canal Winchester HS, OH (Canal Winchester, OH) Coll: Ohio St.
1 Iman Shumpert, G, 6-4, 200
Oak Park-River Forest HS, IL (Oak Park, IL) Coll: Georgia Tech
12 Willie Warren, G, 6-4, 195
North Crowley HS, TX (Fort Worth, TX) Coll:Oklahoma
Co-Head Coach Tom Diener, Harold S. Vincent HS (Milwaukee, WI)
Co-Head Coach Jim Gosz, Rufus King HS (Milwaukee, WI)
Assistant Coach Marc Mitchell, Custer HS (Milwaukee, WI)

EAST TEAM
42 Al-Farouq Aminu, F, 6-9, 205
Norcross HS, GA (Norcross, GA) Coll: Wake Forest
44 William Buford, G, 6-5, 185
Libbey HS, OH (Toledo, OH) Coll: Ohio State
32 Ed Davis, F, 6-9, 215
Benedictine HS, VA (Richmond, VA) Coll: North Carolina
1 Tyreke Evans, G, 6-6, 217
American Christian Academy Prep, PA (Chester, PA) Coll: Undecided
50 JaMychal Green, F, 6-9, 220
St. Jude Educational Institute, AL (Montgomery, AL) Coll: Alabama
24 Sylven Landesberg, G, 6-6, 205
Holy Cross HS, NY (Flushing, NY) Coll: Virginia
3 Michael Rosario, G, 6-2, 180
Saint Anthony HS, NJ (Jersey City, NJ) Coll: Rutgers
55 Samardo Samuels, F, 6-9, 230
St. Benedict's Preparatory, NJ (Montego Bay, Jamaica) Coll: Louisville
31 Chris Singleton, F, 6-9, 225
Dunwoody HS, GA (Dunwoody, GA) Coll: Florida State
15 Kemba Walker, G, 6-0, 175
Rice HS, NY (Bronx, NY) Coll: Connecticut
25 Elliot Williams, G, 6-4, 165
St. George's Independent School, TN (Memphis, TN) Coll: Duke
40 Tyler Zeller, C, 7-0, 220
Washington HS, IN (Washington, IN) Coll:North Carolina
Head Coach Woodie Jackson, Francis Marion HS (Marion, AL)
Assistant Coach Anthony Trimble, Francis Marion HS (Marion, AL)
Assistant Coach Albert Turner, Jr., Francis Marion HS (Marion, AL)

Labels: Recruiting Misc News