Bruins Drop To No.6 In Latest Polls
By Bruin Basketball Report
After a split in the state of Washington, voters in both the Coaches and AP polls agreed UCLA should be ranked No.6 this week.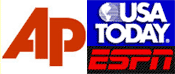 The Bruins were ranked No.4/5 last week but were dropped by voters after following an impressive win against Washington State with a disappointing loss to Washington in Seattle.
With Stanford sweeping both Oregon schools, the Cardinal improved to No.7 in both polls - their highest placement this season. The only other Pac-10 school in the rankings is Washington State at No. 20 in the Coaches and No.21 in the AP poll.
The top five team in both national polls are Memphis, Duke, Kansas, Tennessee, and North Carolina, respectively.
One interesting but puzzling note; the Arizona Wildcats received a scattered number of votes in both polls, however, Arizona State, which swept their series with the Wildcats last week, did not receive a single vote.
In the wonderful world of RPI ranking computations, despite splitting their games last week, UCLA's RPI and strength of schedule actually improved this week. The team's RPI ranking improved to No.7 from No.10 and its SOS increased from No.29 to No.22.
The RPI rankings are heavily influenced by road victories, and UCLA's win in Pullman over No.23 RPI-ranked Washington State pushed up the Bruin's RPI ranking this week.
Complete Associated Press Poll (AP)
Complete Coaches ESPN/USA Today Poll
Complete Ken Pomeroy RPI Ranking
2007-08 UCLA Rankings Weekly Changes
Labels: Polls and Rankings