Bruins Climb to No.4 in Coaches Poll
By Bruin Basketball Report
After convincing home wins against Arizona State and Arizona last week, the Bruins moved up to No.4 in the coaches poll while maintaining their spot at No.5 in the AP poll.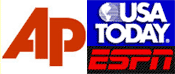 Kansas, formerly No.2, was upset by Kansas State over the weekend and dropped to No.5 in the coaches and No.4 in the AP ranking.
Memphis, Duke, and North Carolina are the top three teams, respectively, in both national polls.
UCLA's average winning margin of 27.5 last week was impressive considering both desert schools are likely candidates for the postseason NCAA tournament.
The Bruins (20-2, 8-1) finished the first-half of conference play one-game ahead of Stanford (18-3, 7-2) in the Pac-10 standings.
Stanford moved into the top 10 in both polls at No.9 after sweeping both Washington and Washington State on the road. The Cougars (17-4, 5-4) dropped to No.17 in both rankings.
With Pac-10 teams blooding each other up in head-to-head play, no other conference team is in the top 25 polls.
In the RPI rankings, UCLA moved up to No.10 from No.12 in RPI and its strength of schedule (SOS) improved to No.29.
UCLA travels up to the Pacific Northwest to face Washington State and Washington on the road this week. They will have to do it without Luc Richard Mbah a Moute who sprained his ankle in the second half of the Arizona contest on Saturday. The junior forward is expected to miss at least seven days.
2007-08 UCLA Rankings Weekly Changes: LINK
Labels: Polls and Rankings