UCLA vs. Oregon - Game Preview
By KS Wong
Bruin Basketball Report
UCLA will try to rebound from a disappointing loss last week to USC when they travel up north on Thursday to face the Oregon Ducks at McArthur Court in Eugene.

Bruin freshman star Kevin Love returns home to Oregon where he played high school basketball at Lake Oswego. He is expected to receive a special welcome from the home crowd and student section.
"They're just trying to help their team win," Kevin Love said. "I'm just going to look at it as something fun for me. We're going to come out with our game plan and will be ready. The Pit is just trying to help the U of O team as best as they can."
Oregon (12-6, 3-3) returns home to McArthur Court where it is undefeated in 2007-08 (8-0).
The Ducks were swept last week on the road by both Washington schools. On Saturday, they fell short against the Cougars, 69-60. Oregon center Maarty Leunen scored 20 points and grabbed 13 rebounds in the losing cause. Malik Hairston added 14 points on 6 of 10 shooting.
As indicated by their home record, Oregon will be tough to beat at McArthur Court. An explosive offensive team, which can put points up on the scoreboard quickly, the Ducks lead the Pac-10 in scoring, averaging 80.4 points a contest while shooting 49% from the field. In addition, they lead the conference in three-pointers made per game with 8.2, making 37.9% of their long-distance attempts.
Oregon has struggled taking care of the ball season at times, giving up 15.4 turnovers a game, which has resulted in less field goal attempts per game versus opponents – almost 3.6 less attempts.
Last season the Ducks gave the Bruins difficulties when they spread the floor on offense to allow their perimeter players to take UCLA defenders off the dribble. Although, speedy point guard Aaron Brooks is no longer here, they have still have skilled and quick guards and wings who can cause problems for the Bruins.
UCLA may even have more trouble due to the potential loss of Luc Richard Mbah a Moute for this game due to a concussion. With Michael Roll already sidelined by a foot injury, if Mbah a Moute is unavailable then expect both Chace Stanback and Nikola Dragovic to see minutes. James Keefe will also see increased time if Mbah a Moute is out but also since senior center Lorenzo Mata-Real may miss the game. Mata-Real also suffered a concussion during the USC game.
Duck's reserve forward Joevan Catron, who has missed the entire Pacific-10 Conference season with plantar fascitis, is expected to play Thursday night. Kamyron Brown, the back-up freshman point guard who had to fly back to Los Angeles to visit his ill grandmother on Monday, is also expected to be on the court to face the Bruins.
Defensively, Oregon has allowed opponents 73.1 points a game on just 31.8% shooting. In six conference games, the Ducks have been outrebounded by bigger Pac-10 teams 33.3 to 32.2 rebounds a game.
Coach Ernie Kent's Oregon team lacks size inside, although Catron's return helps. The Ducks usually play four guards on the floor lined up alongside forward Maarty Leunen. As a result of being overmatched in the interior against the Bruins, the Ducks will likely play primarily zone defense especially since UCLA has struggled at times attacking zones.
The Ducks are led by a triumvirate of talented seniors who are looking to make a big mark in their last collegiate season: Maarty Leunen, Malik Hairston, and Bryce Taylor.
Leunen (6'8, 220) gives the Ducks their only regular presence inside the paint although he is just as comfortable stepping out and hitting a three-point shot. He is averaging 15.9 points on 58.8% field goal shooting and leads the team in rebounding with 9.9 a game.
The former Redmond HS star is also leading the team in three-point shooting percentage, averaging 49.2% from beyond the arc. Although not a shot-blocker, Leunen plays solid position defense in the post, but he will be challenged by UCLA's big freshman center Kevin Love (6'9, 265). No doubt, the Duck's defensive zone will collapse on to Love to deny post pass entries into him as well as to protect Leunen from any potential foul trouble.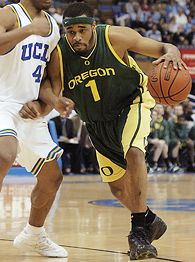 Looking to show he was worth all the hype he received as a top incoming freshman four years ago, Malik Hairston (6'6, 220) has started this season as a force to be reckon with on the floor. The senior forward leads the team in scoring with 18.0 a game while shooting 55% from the field and 47.9% from beyond the arc.
Although not the quickest player on the court, his hot perimeter shooting has allowed him to take opponents off the dribble and get into the paint where he is a good scorer. He has also been very effective on the offensive boards utilizing his length and size.
Hairston will be an extremely tough match-up for the Bruins if Luc Richard Mbah a Moute is unavailable to suit up. James Keefe and perhaps Chace Stanback would get the call against Hairston if Mbah a Moute is unable to go.
Bryce Taylor (6'4, 210) is an athletic wing who usually saves his best games for the Bruins. He's averaging 13.5 points and 4.4 rebounds a game . He's also shooting 37.5% from beyond the arc.
A solid defender and dynamic scorer who can get to the basket as well as shoot from the three, Taylor will be initially matched up against Josh Shipp although we'll likely see Russell Westbrook immediately shifting onto Taylor once he enters the game.
At point guard is Tajuan Porter (5'6, 150, So) who is going through a sophomore jinx. With Aaron Brooks gone, Porter has been asked to replace the All-Pac 10 conference first team point guard, however he has struggled mightily from the field. While Porter is averaging a respectable 13.0 points a game, he is shooting an abysmal 37.9% from the field and 30.5% on three-pointers.
Although he's improved his decision-making of late, Porter still has struggled with turnovers, many times trying to force the action on the floor. Freshman Kamyron Brown (6'2, 170) has played surprisingly well for the Ducks and has given Coach Kent another option at the point. Brown started against Washington State.
With injuries mounting on the Bruin bench, and with still more than half the Pac-10 season to go, UCLA has some upcoming challenges against talent-laden teams, especially in a venue like McArthur Court.
Without Mbah a Moute, the Bruins not only lose a valuable rebounder and system player, they more importantly lose an excellent perimeter and lock-down defender. And against a perimeter-dominated team like Oregon, the Bruins may have trouble keeping up with the Ducks in Eugene.
Defensively, UCLA needs to get back in transition and stop the Ducks from running, and prevent them from getting into the paint off the dribble.
The Bruins will need to work hard to execute on offense and get the ball to Kevin Love and leverage their huge size advantage in the middle. Whether it be inside or at the high post or short corner, the offense needs to run through Love.
(photo credit: Oregon Athletics)
Labels: Game Previews