UCLA Drops Down In Polls
By Bruin Basketball Report
With the loss at home last week against USC, the Bruins dropped to No.8 in the AP writers and No.7 in the ESPN/USA Today coaches polls.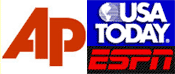 The Bruins were upset by the Trojans, 72-63 on Saturday. They hit the road this week to Oregon to face both Ducks and Beavers.
At Oregon State today, Jay Johns was fired as head coach after an 0-6 start in Pac-10 conference play. Assistant Kevin Moutin will serve as interim coach.
In addition, Oregon State announced former Kansas-transfer center C.J Giles was dismissed from the team on Monday. No reason was given for the decision.
Stanford moved into the polls at No.20 in the AP and No.21 in the Coaches after sweeping both Arizona schools at home last week. While Arizona State is the only other Pac-10 conference school in the polls, falling at No.24 in the AP.
At the top of the polls, Memphis and Kansas are the new No.1 and No.2 teams, respectively, in both polls after North Carolina was upset by Maryland in Chapel Hill, 82-80.
As for RPI ranking the Bruins are No.13 and are No.20 in strength of schedule (SOS).