Prep Star Reeves Nelson Verbally Commits to UCLA
By Bruin Basketball Report
Reeves Nelson highlight video 1
Reeves Nelson highlight video 2
2009 recruit Reeves Nelson of Modesto Christian High School verbally committed to UCLA last evening, as reported by Rise Magazine and confirmed today by multiple recruiting services.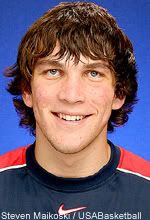 The junior 6'7, 220 lb forward is ranked as one of the top 30 players nationally in his recruiting class.
Nelson had multiple offers from elite programs including, North Carolina, Duke, and Kentucky, but he decided on Westwood due to the coaching staff, team's history of success, and proximity to home.
"They (UCLA) were really the first ones to recruit me and I really like coach Howland and all their other coaches," Nelson told RISE Magazine. "I know a bunch of the kids going there, like Jrue Holiday, Jerime Anderson and Drew Gordon. And obviously, they win a lot of games."
Nelson will likely play both the power and small forward positions at UCLA. He averaged 17 points and 12 boards per game last year while leading Modesto Christian to a 30-4 record and to the Division V NorCal finals.
He is the perfect Ben Howland-type player. Nelson is a physical, bruising-type player who finishes extremely well around the basket and is beginning to hit consistently from the outside. He is a tough and relentless rebounder who always seems to find himself around the ball.
Modesto Christian will be traveling to a tournament in Kentucky this weekend. The Wildcats were hoping to have another opportunity to make an impression on Nelson. Former Kentucky star and NBA player, Chuck Hayes, also played prep ball at Modesto Christian.
Nelson is UCLA's first verbal commitment from the 2009 class. This recruitment helps to soften the loss of Mater Dei twins David and Travis Wear who both committed to North Carolina last week.
The Bruins are expected to have up to six or seven scholarships available for this recruitment class.
(photo credit: USA Basketball)
Labels: Recruiting Misc News