Love Teleconference Notes, Injury Updates
Kevin Love
Teleconference Quotes
(courtesy of UCLA Athletics)
Kevin Love, who played at Lake Oswego High School in Oregon, makes his first road trip to the state in a UCLA Bruins uniform.
on what factors he considered when choosing to attend UCLA
"Location and staying close to home. My two finalists were UNC and UCLA. I just felt like UCLA was the right fit for me. I took my first unofficial visit here – it was the first unofficial visit I ever went on. It felt like the right place and most of my family lives here in southern California, so it just felt like the right fit for me."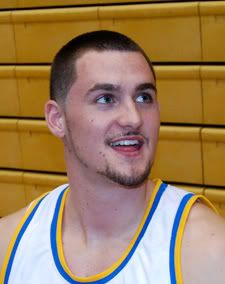 on consideration to attend either Oregon or Oregon State
"Oregon, I actually gave a lot of consideration to, just because there is so much tradition there. The fans are great. My dad went there. I fell in love with the school at an early age. I didn't give much consideration to Oregon State, but that's a great school. Everyone in the Pac-10 is going to be a tough team to beat. We're looking forward to both games this weekend."
on fans at McArthur Court
"It's going to be ruthless out there. But, it's all in good fun. They are just trying to help their team to win. If I had a crowd like that, I'd be proud of it. I think that they are undefeated at home this season, so they're doing a great job with it.
"They're just trying to help their team win. I'm just going to look at it as something fun for me. We're going to come out with our game plan and will be ready. The Pit is just trying to help the U of O team as best as they can."
on Maarty Leunen
"Maarty and I have been playing against each other since I was in the eighth grade. He's a great player. I think he's shooting 49 percent from the threes right now, and he's looking like a great player. He's absolutely one of the best players in the Pac-10."
"He's very versatile, and I know his family very well. I played against his brother, Matt, back in the day, and also Mike back in the day. They've got a great family, and I look forward to playing against Maarty. He's got a very versatile game – he can drive the ball, he can really shoot the ball one, and like I said, he's one of the best players in the Pac-10."
on watching games at McArthur Court growing up
"I just remember going there with my dad at an early age to watch the Oregon games. There is such a great history there, and it's such a great feeling when you walk into Mac Court and you've got the Pit going on there. I used to come up and watch games all through my high school and junior high school years. I won a state championship and a number of games [at McArthur Court], so it's a great feeling of something special.
on the University of Oregon
"It's just a great place. I loved growing up in Oregon and growing up in Lake Oswego. It's a good place. I think everybody there has a great time. I've talked to Maarty [Leunen] quite a few times, and they're doing a great job there. They had a great run last year in the tournament, so more power to them."
on Oregon's strengths
"[Tajuan] Porter can really shoot the ball – really, the whole team can. Malik Hairston is going to be a tough match-up for us as well. I played against Kamyron Brown last year, when he was at Mater Dei. He's a great player for them. They like to run the ball. They can all shoot and they can all drive. They're an aggressive team that we're going to have to play some tough defense on."
on differences between Oregon and Los Angeles
"L.A. is probably the second-biggest media market in the country, if not in the whole world. It's been different than what I experienced in the past. But I've had a lot of fun. I made the honor roll down here. I've had a lot of fun with my classes, and I've made a lot of friends outside of the basketball community. What a lot of you guys can relate to down here is that there's sunshine every day, and it's always raining up there. But I'm looking forward to coming back up to the rain on Wednesday through Sunday."
on staying at UCLA beyond his freshman season
"At the beginning of the year, they asked me that question. But I'm a UCLA Bruin right now. I'm 19 years old and I'm just enjoying my first season. If the NBA comes calling after this year, I'll have to sit down with my family and assess my options. As of right, now I'm a UCLA Bruin, and I'm trying to get better every day."
on thoughts after losing to USC on Saturday
"Well, on Monday we watched some film. We looked a lot of our mistakes and we're trying to get a couple wins up at Oregon. All road games, especially at the Pit and Gill Coliseum are going to be tough wins to get. We need to come out with more intensity this time and really show what we're made of."
on making adjustments coming out of high school
"I knew what to expect – I've talked to my assistant coaches and with Coach Howland as much as I could to get adjusted to the [college] game. The biggest thing was just having a schedule and being on schedule and trying to be on time to everything. With classes, and media, and homework and practice and lifting and when to eat and that sort of thing, that was tough at first. But now that I have gotten more adjusted to college life, it has been a better transition for me."
on legendary head coach John Wooden
"Coach Wooden is a great guy and he's 97 years old. I've gotten to talk to him a couple of times. He came out to campus and gave a speech to all the student-athletes. I've developed a little of a relationship with him and I'm just trying to embrace that as much as possible."
BBR Notes: UCLA coach Ben Howland said at his weekly pressor that forward Luc Richard Mbah a Moute was questionable and center Lorenzo Mata-Real was doubtful for Thursday's game against Oregon in Eugene . Both players sustained concussions during the first half of Saturday's game against USC and missed most of the second half.
Without one or both players, sophomore James Keefe should see plenty of action this weekend. Over the last three games, Keefe is averaging 13 minutes and has shown improvement in his play since returning from offseason shoulder surgery.
Point guard Darren Collison still feels soreness in his hip but feels it shouldn't hamper his play in the upcoming road trip. Collison also said his knee has fully recovered from the earlier season injury.
(photo by Bruin Basketball Report)