Howland Still Uncertain on Rotation With Injury To Roll
By KS Wong
Bruin Basketball Report
Junior Michael Roll is scheduled to have an MRI conducted on his injured foot on Wednesday, and Coach Ben Howland stated he will announce his plans on the playing rotation at that time - no earlier.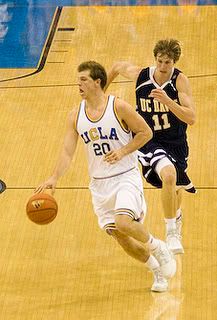 Roll suffered a partial tear in the plantar fascia of his left foot at practice on Monday.
"He was blocking out in a block out drill," Howland said. " He just went to push off on his toe, it was just a quick push and he felt a twinge. Last time he heard it pop but this time it didn't pop but he felt similar pain."
It is thought this tear may be in a different area than the previous rupture but the MRI will confirm the area and extent of the injury. The prior rupture was also a partial tear and not a complete tear of the plantar fascia.
"He didnt have any pain after Saturday's game. He played 26 mintues in that game," Howland said. "The new injury is disappointing."
Initially, the team trainer thought Roll might be out at least three week, however, a final determination will be made based upon the MRI results.
With the injury to Roll its almost certain another player on the roster, or perhaps redshirt James Keefe, will have to step forward to fill Roll's minutes in the rotation.
However, Howland was noncommittal on how Roll's injury would affect James Keefe's redshirt status, although he did have a meeting set up later in the day to speak to Keefe about the situation.
The other candidates for more playing time are freshman Chace Stanback and sophomore Nikola Dragovic. In addition, Luc Richard Mbah a Moute will likely see more action at the three spot.
"I think Chace has improved," Howland said, "and I thought he played well in the UC Davis game. Nikola Dragovic is practicing hard but I told him the one thing we expect him to do well is shoot the ball and he's not done that."
Howland stated part of Dragovic's problems had to do with conditioning. Dragovic had participated on Serbia's national team in the summer but then had double-hernia surgery prior to returning to UCLA in the fall. Howland said Dragovic gained weight after the surgery and only now is rounding into optimum condition.
Playing with less than an eight man rotation, especially in tough Pac-10 conference action, is not an option for the team under Howland.
"As hard as we play defensively I don't think you can have success playing seven guys that many minutes," Howland said. "I think you need 8 or 9 guys."
In other player injury news, Lorenzo Mata-Real completed a full contact practice on Monday without any complications since straining a groin muscle. In addition, Darren Collison practiced well without his knee brace for the first time since returning from a knee injury. Collison will play against Stanford on Thursday without a knee brace or sleeve.
(photo credit: J Rosenfeld)
Labels: Team Misc News