Collison Battles Food Poisoning, Howland Pleased With Keefe's Play
By KS Wong
Bruin Basketball Report
Darren Collison suffered food poisoning over the weekend and was admitted to the emergency room on Sunday. He received intravenous fluids to treat dehydration.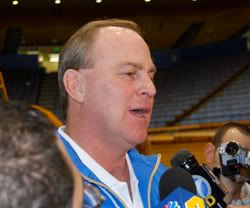 The junior point-guard missed practice on Monday and was not expected to practice Tuesday, however, UCLA Coach Ben Howland said Collison should be available to play against the Washington Huskies on Thursday.
Howland was pleased with Collison's play against California especially on the defensive end.
"He played very well on Saturday," Howland said. "I thought it was his best game of the year. All those little pull up jumpers he hit, those are great shots. He played great defense. One thing to never lose sight of is his defensive intensity on the ball. His ball pressure is as difficult for anybody in the country to deal with."
Although sophomore James Keefe played a total of just eight minutes in the Bay area games, Howland was very pleased with his contributions.
"He is so much further ahead than he was last year," Howland said. "His minutes were critical in the last game. He's going to play a critical role in the remaining games we play. I don't think he's as strong as he was before he hurt his shoulder, but I think he's pretty close."
Michael Roll is wearing a walking boot as he recovers from his foot injury. He is scheduled to be out at least another 3 to 4 weeks. Howland made it clear he had no plans to redshirt Michael Roll and anticipated his return to the lineup later this season.
On losing recruits to the basketball program, Howland said it was all part of the recruiting process.
"In recruiting you lose a lot of guys you go after. You can't lament to much on what could have been," Howland said. "Actually, I lament more about what it would be like to have a guy like Kareem Abdul-Jabbar here again or a Bill Walton. I think about things like that - where is the next Bill Walton."
(photo by Bruin Basketball Report)
Labels: Team Misc News