Bruins Regain No.5 Spot, Love Wins Pac-10 Honor
By Bruin Basketball Report
With two road victories in the state of Oregon last week, the Bruins moved back up to No.5 in both national polls this week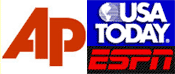 UCLA pulled out a tough victory against Oregon in Eugene, 80-75, then went to Corvallis to beat the Beavers 85-62.
Kevin Love was voted Pac-10 Player of the Week for his performance in those games. He recorded a combined 42 points 37 rebounds, his 21 caroms against Oregon State set a UCLA all-time freshman record.
It marked the third Pac-10 Player of the Week honor for the freshman center from Lake Oswego HS.
Washington State, which lost to Arizona in Tucson, dropped to No.9 in both polls, while Stanford jumped to No.14 after beating California. No other Pac-10 team made the top 25 - Arizona State dropped out after losing two games at home to the Washington schools. Both Arizona and USC gained more votes this week and are creeping up in the polls.
Memphis and Kansas remained No.1 and No.2, respectively. Duke shot up to No.3 after defeating Virginia Tech and Maryland. The Blue Devils are followed by North Carolina at the No.4 spot.
As for RPI ranking the Bruins are No.12 and are No.32 in strength of schedule (SOS).
2007-08 UCLA Rankings Weekly Changes: LINK
Labels: Prep News Roundup