Bruins Maintain No.5 Spot, Begin Climb Up RPI
By Bruin Basketball Report
After sweeping through the Bay area last week with convincing victories over Stanford and California, UCLA maintained its spot at No.5 in both the AP and Coaches polls.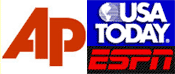 The top four teams, North Carolina, Memphis, Kansas, and Washington State, each won their games last week to remain undefeated and maintain their 1-4 spots in both polls.
UCLA (14-1, 2-0) and Washington State (13-0, 2-0) clash next Saturday at Pauley Pavilion in a titanic match-up between the top best teams in the Pac-10 conference.
Stanford, ranked No.23, is the only other Pac-10 school to occupy a spot in both polls. Surprisingly, the Coaches poll has Arizona at No.24 despite the Wildcats dropping a home game on Saturday to Oregon.
Herb Sendek's Arizona Sun Devils made a push in the polls earning votes from both writers and coaches. The Sun Devils swept both Oregon schools at home last week and are currently tied atop the Pac-10 standings with the Bruins.
Although still early in the season, UCLA's RPI improved dramatically with their two road wins last week. The Bruin's RPI ranking improved from 55 to 15, in addition its SOS (Strength of Schedule) improved from 209 to 46.
Labels: Polls and Rankings