Love's Double-Double Leads UCLA To Season Opener Win
By KS Wong
Bruin Basketball Report
Kevin Love scored 22 points and grabbed 13 rebounds in his first regular season collegiate game to lead UCLA to a 69-48 victory over the Portland State Vikings in front of 9,854 at Pauley Pavilion.
The freshman sensation shot 6 of 8 from the field including a three-pointer from the corner. Not being able to stop him in the paint, the Vikings resorted to fouling Love, but he was just as proficient hitting 9 of 11 from the charity stripe.
"My teammates put me in the right position to score," Love said after the game.
His 22 points were the second-most by a UCLA freshman in his first game and his 13 rebounds topped Charles O'Bannon's record of 12 as a freshman in 1993.
It isn't that the Vikings are small and meek in the interior either, they guarded Love with 6'11 Scott Morrison and 6'8, 255lb J.R. Moore who both combined for eight fouls, but Love was too skilled and determined.
The one thing, among many, you notice about Love are his soft hands. Not only will he catch passes thrown to him into the post, he will also catch bad passes and convert them into easy baskets.
Love also threw one of his patented length of the floor outlet passes to Russell Westbrook who caught the perfectly thrown ball down court for a thunderous dunk that had the Pauley Pavilion crowd on its feet - including former Bruin wide receiver Freddie Mitchell who was at the game and who caught many similar passes at the Rose Bowl.
Josh Shipp successfully returned to action after missing the exhibition game against Chico State with a sprained right thumb. Shipp, who has become the heir apparent of the double screens Arron Afflalo used to get last year, added 18 points on 7 of 9 shooting including 4 of 6 from beyond the arc. .
The Bruins needed Shipp's sharpshooting in the second half when the Vikings pulled within 13 and the Bruins began to look weary. Shipp hit two consecutive three-pointers to prop the lead back to 19 and the Bruins never looked back.
Shipp also had a stellar game on the defensive end, holding Portland State's top returning scorer Dupree Lucas scoreless.

"Josh did a very good job defensively," Howland said. "Lucas is a good player and he had zero points. I'm excited to see Josh take on that challenge."
Even though the Bruins recorded a 21 point victory, most of it should be attributed to a defense which forced 21 turnovers including 8 steals.
While the defense was stellar, the offense sputtered at time and should have scored more than 69 points against an overmatched team such as Portland State.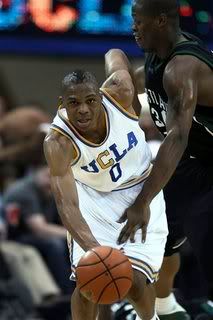 One reason for the offensive woes was the uninspired play at the point by Russell Wesbrook. Although he scored 10 points and had 5 assists, he also committed 6 turnovers.
Viking's 5'6 pesky guard Jeremiah Dominguez gave Westbrook problems all game including a clean pick at halfcourt for an easy lay-up just before halftime. Afterwards, it appeared Westbrook's became more tentative in his play and the Bruins offense never really got going again.
Junior starting point guard Darren Collison is expected to return sometime next week with Westbrook returning to back-up duties at the one, and perhaps starting at the two guard which is his more natural position at this stage of his career.
Also, UCLA only outrebounded the Portland State by four, a stat that disappointed UCLA Coach Ben Howland. "I was disappointed we didn't outboard this team by a few more."
"He (Love) was very good rebounding the ball defensively, to the point where a lot of our guys were taking off early, expecting him to get every rebound," Howland said. "That's not going to happen."
Luc Richard Mbah a Moute did not have a good game against Portland State, shooting just 1 of 6 from the field including committing 3 turnovers. Although the most startling stat is the 1 rebound he managed in 29 minutes of play.
At this point of the season, Mbah a Moute looks very uncomfortable on the wing, his outside shot is still inconsistent and his ballhandling needs improvement. It would not be surprising to find Mbah a Moute spending more time at the four spot the rest of the season, especially after Collison returns to the line-up.
UCLA extended its home winning streak to 21 games.
The Bruins play in the CBE Classic next week with two games to be played at Pauley Pavilion on Monday and Tuesday. On Monday the Bruins face Youngstown State and then face the winner of the other preliminary game on Tuesday. The winner then goes to Kansas City for the CBE semifinals and finals game on November 19th and 20th.
(photo credit: AP/David Lewis)
Labels: Game Summaries