Former Bruin Gerald Madkins Joins Sonics
By Bruin Basketball Report
Former UCLA guard Gerald Madkins was hired as Director of West Coast Scouting for the NBA Seattle SuperSonics, General Manager Sam Presti announced today.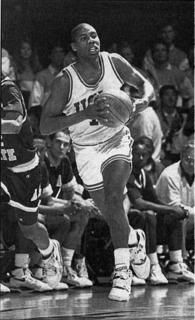 Before
joining the SuperSonics, Madkins was a scout with the New York Knicks for four seasons and served as an assistant coach at UCLA from 2001-03.
Madkins was named the Continental Basketball
Association's Rookie of the Year in 1993, and played three years in the
NBA for the Cleveland Cavaliers and Golden State Warriors. He also
played professionally overseas in Spain and France
Madkins played for the Bruins during the 1988 and 1990-92 campaigns He suffered injuries from an automobile accident which forced him to redshirt the 1989 season; however, he returned strong and started for the team in his final three season.
While at UCLA Madkins was known as a solid defensive player and team leader. With a roster full of talented shooters and scorers, Madkins played unselfishly and sacrificed his own offensive game for the sake of the team. He still ranks in the top ten in career assists and steals in UCLA history
Madkins finished his collegiate career at UCLA averaging 7.6 points, 3.3 assists while shooting 52% from the field in 123 games. As a senior, he helped the Bruins win the Pac-10 title (28-5) and reach the regional final of the NCAA Tournament.

Labels: Bruin Player News (Former)