Keefe Injures Shoulder, Out 4 To 5 Months
By Bruin Basketball Report
Bruin sophomore forward James Keefe will undergo surgery tomorrow morning to repair a torn labrum (cartilage) in his left shoulder, the UCLA athletic department announced today. Team physician, Dr. Sharon Hame will perform the surgery.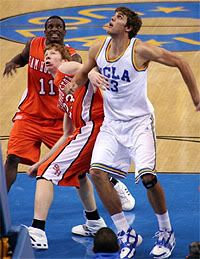 Keefe injured his shoulder recently during a summer basketball workout, an MRI test conducted earlier today revealed the torn cartilage.
Recovery from surgery and required rehabilitation could take up to four to five months which means the former Santa Margarita HS star may not return to action until November or December. The Bruins open the 2007-08 regular season against Portland on November 9th.
"James had a great spring and summer and I was very enthused with his improvement during the off-season," UCLA head coach Ben Howland said. "Although this is a tough setback for him, I'm confident that he will handle it well and be ready to go in December."
After a somewhat unspectacular freshman year Keefe underwent intensive weight training over the summer to bulk up on his thin 220 lb frame to ready himself for a more major role on the squad this season.
Keefe averaged just 1.0 points and 1.6 rebounds in 6.8 minutes a game last season while playing in 32 of 36 contests. He was solid against Florida in the Final Four semifinal game hauling down 6 rebounds in 15 minutes of play
"This is disappointing because I've been working hard this spring and summer in workouts getting my body stronger," Keefe said. "I was really looking forward to my sophomore season, so this is a big disappointment for me. Hopefully I'll be able to recover quickly and be back at full strength by the time Pac-10 play starts."
With the transfer of Ryan Wright from the program earlier this summer, Keefe's injury leaves UCLA with just Lorenzo Mata, Alfred Aboya, Luc Richard Mbah a Moute, and incoming freshman Kevin Love along the front line.
(photo credit: Jack Rosenfeld)
Labels: Bruin Player News (Current)