Bruins Done With 2008 Recruiting Class?
By Bruin Basketball Report
UCLA has compiled arguably the top recruiting class in 2008 with Jrue Holiday, Jerime Anderson, Malcolm Lee, and Drew Gordon, all top 50 nationally ranked players, verbally committed to the program.
With four elite recruits already coming to Westwood in 2008, should we expect to welcome a fifth?
Considering the Bruins may lack some depth along the front line in 2008, its a definite possibility.
Incoming freshman big man Kevin Love is already touted as a potential lottery pick. With center Lorenzo Mata graduating after next season, an early departure by Love would leave just Alfred Aboya (6'7) , James Keefe (6'8), and freshman Drew Gordon (6'9) as the only true post players in 2008.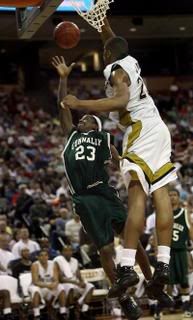 As a result, its not surprising to learn the Bruin staff is looking closely at a number of available 2008 post players including: J'Mison Morgan (6'10, 265lb), Ralph Sampson (6'11, 235lb), and John Brandenburg (6'11, 225).
Whether UCLA will pursue an early verbal commitment from one of these players or perhaps take a chance on a late signing in spring (ala Russell Westbrook) depends on their comfort level in taking on a fifth recruit when they only have four certain scholarships available at the moment.
Currently UCLA has three available scholarships in 2008 as a result of early departures by Arron Afflalo (NBA) and Ryan Wright (transfer to Oklahoma) this last summer and the graduation of Lorenzo Mata. The fourth scholarship for 2008 will almost certainly come from the early departure of point guard Darren Collison who flirted with the idea of entering the NBA draft after last season. Collison is already projected to be a lottery pick in next year's draft.
Where might the fifth scholarship come from?
Despite the fervent wishes of Bruin faithful, the scholarship may come from freshman Kevin Love. He has
repeatedly stated he'd like to play at least two years in college, but
if the 6'10 post player dominates at this level as expected and the Bruins make a
strong run in the tourney, Love's mind set may change by season's end.
UCLA could also gain another scholarship through a transfer by a current player. With the recent success of the basketball program, UCLA is once again attracting the interest of the nation's most elite players, subsequently, competition for playing time on Nell and John Wooden's Court has become more intense and some players may consider transferring elsewhere rather than riding the Bruin bench all season.
Another possibility is the early departure of forward Luc Richard Mbah a Moute. The forward from Cameroon announced earlier this summer he had also considered making himself available for the NBA draft. Although he did not have the type of sophomore year some had expected, Mbah a Moute still possesses the type of athleticism and tenacity to play in the professional ranks. If he can develop a consistent midrange jump shot as a junior, he may be a candidate to leave early for the NBA next season. Mbah a Moute will have plenty of opportunities to develop his perimeter game as he is slated to play major minutes at the wing next season.
The UCLA coaching staff has some tough recruiting decision to make, yet its the type of problem top schools regularly face each year. And after four years into the Ben Howland-era, which includes back-to-back Final Fours, the UCLA basketball program has undoubtedly regained its elite status.
(photo credit: AP)

Labels: Recruiting Misc News