Collison and Mbah a Moute Decide To Stay In School
By Bruin Basketball Report
UCLA sophomores Darren Collison and Luc Richard Mbah a Moute both announced they would not test the waters of the NBA and remain in Westwood for their junior years.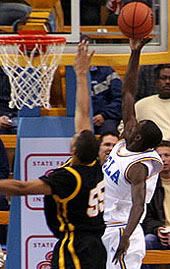 "This is the right decision. The NBA isn't going anywhere," said Collison. "It wasn't too difficult. My goal is to
always win a championship. I'm ready to take a knock at it my junior
year."
Both players met with UCLA Head Coach Ben Howland the week following the Final Four to discuss their futures.
Howland indicated how this year's NBA draft would be one of the strongest in recent history as a result of last year's elite high school players, such as Kevin Durant and Greg Oden who were prevented from joining the draft due to an NBA rule change, entering the draft this year.
It appeared, at least in Collison's case, he had a chance of getting drafted in the first-round this year, however with an additional
year of seasoning he has a chance of moving up higher in
next year's draft.
"I think Darren had given some thought to playing in the NBA," Howland said. "To be honest, he's a potential late
first-round pick. I think the thinking is, and it's wise, that he can test the waters next
year and that he will move himself way up the draft and be a potential
early- to mid-first round pick when he does leave for the NBA."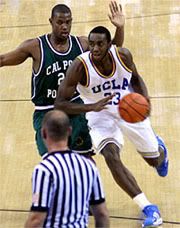 "I want to get stronger, smarter and learn how to control
the game," said Collison"
Howland says Collison will work hard over the summer to gain more weight and strength as well as develop his point-guard skills. As for Mbah a Moute, the UCLA coach feels he has a good chance of spending more time at the three spot, but it will depend on how much he improves before the start of next season.
"I would anticipate both Luc and Darren at this time next year will be
putting their name in the draft and testing the waters," Howland said.
BBR Notes: Josh Shipp returned to school this week on crutches and attended the team's meeting on Monday. Howland expects Shipp to be fully recovered before the start of the season.
(photo credit: Jack Rosenfeld)