Bruins Blitz Beavers In 47 Point Blowout
By Bruin Basketball Report
In the days following their loss to Stanford in which UCLA faded in the second-half after building a big early lead, Bruin players talked about the need to develop a "killer instinct", an edge to put teams away.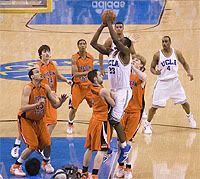 On Saturday, the Oregon State Beavers may have been the first casualties of UCLA's new found attitude.
Before an appreciative home crowd of 11,095, the Bruins swamped the Beavers, 82-35, in which fifteen UCLA players saw action and no starter played more than 24 minutes.
"We want to come out and play as hard as we can every night, no matter
who the opponent is," UCLA Head Coach Ben Howland said. "It shows a maturing level on our
team."
On this day at least, the over-matched Beavers had no business being on the same court as the Bruins. The Beavers could only muster up a season-low 18 points before intermission on a dreadful 34% shooting, while the Bruins shot a blistering 70% to go into halftime with a 30 point lead, 48-18.
The Bruins started off the game with high intensity and an eagerness to put this game away early, they went on a 15-5 blitz to begin the game highlighted by two Josh Shipp dunks off steals.
UCLA's pressure defense smothered the Beavers, forcing them into 21 turnovers.
Darren Collison rebounded from a poor game between the two clubs in January with a stellar defensive performance against Oregon State's Josh Tarver. The Beaver point-guard finished with just 4 points and committed 7 turnovers under the defensive pressure applied by Collison.
"We wanted to come out with the same intensity as we did against
Oregon (on Thursday)," said Collison, "If we want to get where we want to
go, we got to have games like we did today."
The UCLA starters made 22 of 29 shots for 76% in the game. Arron Afflalo scored a team-high 16 points on 7-9 shooting and Darren Collison added 8 points and dished out 10 assists.
Collison wasn't the only Bruin sharing the ball, as the team combined for a total of 24 assists in the game. Twelve UCLA players had at least one assist.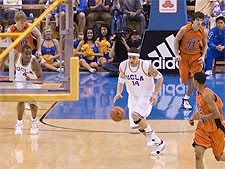 Even center Lorenzo Mata got into the act, at one point acting like a point guard, leading a fast-break down court and threading the needle with a pass to an open Darren Collison for a lay-up.
"I love all the unselfishness," Howland said. "That's fun to see."
Luc Richard Mbah a Moute was perfect from the field going 6-6 in the game. Coupled with his perfect shooting on Thursday against Oregon, Mbah a Moute has hit 12 consecutive baskets. He also added a team-high 7 rebounds on Saturday.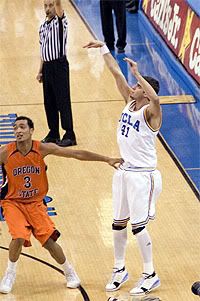 In the second-half it was more of the same. After the Bruins went on a 11-2 run to start the half, Howland decided to clear the floor of his starters and give his reserves a chance to gain some invaluable game experience.
Little used Nikola Dragovic logged his most time as a Bruin, twelve minutes, and made the most of it. The freshman from Serbia was sure and confident with his outside shot, scoring 8 points on 3-6 shooting including two three-pointers. He also grabbed 6 rebounds and held his own defensively against OSU's leading scorer Marcel Jones.
"I was working hard and waiting for my chance," said Dragovic after the game.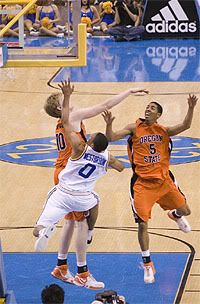 Freshman guard Russell Westbrook tied his season-high scoring 11 points on 4-6 shooting including a couple of acrobatic shots around the rim. He helped the Bruin reserves outscore the Beaver starters, who remained in the game until the end - perhaps a punishment by Beaver Coach Jay John, by ten points.
Even walk-ons Matt Lee, Joey Ellis, DeAndre Robinson, and Mustafa Abdul-Hamid got into the act, exciting the Pauley crowd with some spirited play including two nifty assists by Lee and Ellis to end the game.
"You got to see guys have the opportunity to score," Collison said.
"The players on the bench are the ones who get us better every day."

The Bruins take Sunday off to rest and will resume practice on Monday. UCLA hosts crosstown rival USC on Wednesday night in a contest to determine first-place in the Pac-10. The Trojans defeated Oregon, 71-68, Saturday and are tied with Washington State, just one game behind UCLA in the conference race.
(photo credit: Jack Rosenfeld)
Labels: Game Summaries