UCLA Bigs Get It Done, Afflalo Hits Game Winner
By Bruin Basketball Report
His teammates knew it. The crowd knew it. The entire USC team knew too. But it didn't matter. Nothing was going to stop Arron Afflalo from taking the last shot with the game on the line.
With 4.7 seconds remaining and UCLA down by one point, Afflalo rose above the defense and hit a 15-foot jumper to beat USC, 65-64, in a memorable first game at the new Galen Center between the crosstown rivals.
The victory did not come easy for No.3/No. 4 ranked UCLA. Down 31-26 at halftime, the Bruin deficit grew to as large as 10 points in the second.
With 8:23 remaining and down 55-49, UCLA started their rally going on a 9-0 run capped off by an Arron Afflalo three-pointer with 3:51 remaining to put UCLA ahead 58-55 and to set the stage for a wild final minute of play.
UCLA guard Darren Collison misfired on a three-pointer but Lorenzo Mata grabbed the offensive rebound and put it back in for a 63-57 UCLA lead with 58 seconds remaining in the game.
Gabe Pruitt of USC took the inbound pass and went behind a screen to knock down a three-pointer to pull the Trojans within three.
USC then intentionally fouled Lorenzo Mata to send him to the line for two foul shots. Mata a 32% free throw shooter missed both attempts.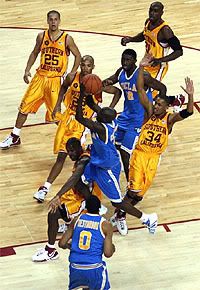 The Trojans rebounded and Nick Young worked himself loose for a three-pointer from the corner. Young swished the shot and then was clipped on the right leg on his follow through by Darren Collison sending him to the line for a rare four-point play to put USC ahead 64-63.
On the ensuing play Michael Roll found Arron Afflalo working himself free near the sideline of the UCLA bench and nearly threw the ball away but Afflalo was able to corral it in. Afflalo guarded closely by USC's Lodrick Stewart then drove across to the free-throw line for a jump shot and hung for what seemed like an eternity with Stewart's hand in his face and swished it in for the game winner.
USC had one more opportunity on the inbound pass but Luc Richard Mbah a Moute tipped Taj Gibson's pass to Gabe Pruitt which forced him to take an off-balanced shot from the backcourt which sailed in the air harmlessly as time expired.
Afflalo finished with 15 points, scoring 13 of them after intermission. Darren Collison scored a career-high 17 points including three big three-pointers to help UCLA rally in the second-half.
Challenged by USC freshman phenom Taj Gibson, UCLA's big men in the middle rose to the occasion combining for a total of 19 points and 17 rebounds while holding Gibson to an almost double-double, 9 points and 8 rebounds. Lorenzo Mata scored 12 points and shared team-high honors of 8 rebounds with Alfred Aboya who also scored 5 points. Ryan Wright scored two points on a tip-in in his two two minutes of play.
As well as UCLA played to rally and win, USC suffered a number of miscues down the stretch which cost them the game including misses on the front ends of three one-and-one opportunities in the last five minutes of the game. In addition, Lodrick Stewart took two off-balanced three-pointers in the same span to hurt the Trojan cause.
The Bruins shot only 38.6% from the field while the Trojans were 45.3%, but UCLA outrebounded them 37-30 including 10-5 on the offensive boards.
After committing ten turnovers in the first-half, the Bruins committed only two more the rest of the way.
UCLA improved its record to 15-1 overall and 4-1 in Pac-10 conference play while USC fall to 13-5 and 3-2.
The Bruins return to Pauley Pavilion next week to host the Arizona schools.
BBR Notes: Even though UCLA's Luc Richard Mbah a Moute contributed quietly in the box score ( 5 points and 7 rebounds), his value, read intangibles, to the team was loud enough for Coach Ben Howland to play him 34 minutes in the contest despite suffering from tendinitis in his knees.
(photo credit: AP and Jack Rosenfeld)
Labels: Game Summaries