UCLA In 2008 Wooden Classic, Fall To No.8 In Polls
By Bruin Basketball Report
The Bruins will return to play in the John R. Wooden Classic in 2008, UCLA's' 12th appearance and 6th consecutive in the college basketball doubleheader.
The UCLA vs. Davidson and Saint Mary vs. San Diego State match-ups in the 14th annual event on Saturday attracted 17,440. The Bruins are 8-3 in the event named for their former coach.
Next year's doubleheader will be played on Dec. 13 at the Honda Center in Anaheim. UCLA's opponent and the other matchup will be announced later.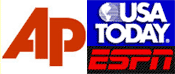 After rallying to defeat Davidson, 75-63, at the Wooden Classic, both weekly polls ranked UCLA (8-1) at No.8.
The Bruins already ranked eigth in last week's ESPN/USA Today Coaches poll were dropped to the eigth spot in the AP Writers poll this week with Washington State (9-0) overtaking UCLA.
The Cougars had an impressive week defeating No.19 Gonzaga on the road, 51-47, and then had little trouble disposing of Portland State, 72-60 in Pullman.
The Pac-10, considered one of the top conferences in the nation carry a cumulative 62-17 (.785) record against Division I non-conference opponents so far this season. Only two other Pac-10 teams, Oregon and Arizona, are in the top 25 rankings. The Ducks (7-1) are No.16 in both polls while the Wildcats (6-2) are No.22 in the coaches and No.21 in the writer's voting.
North Carolina, Memphis, and Kansas hold the top three spots in both polls this week.
UCLA faces Idaho State (2-6) this Saturday at Pauley Pavilion. The Bengals hail from the Big Sky Conference, and in their last game lost to Boise State, 93-61.
BBR Notes: Listing of UCLA basketball starting lineups in history: LINK [New]
Labels: Polls and Rankings